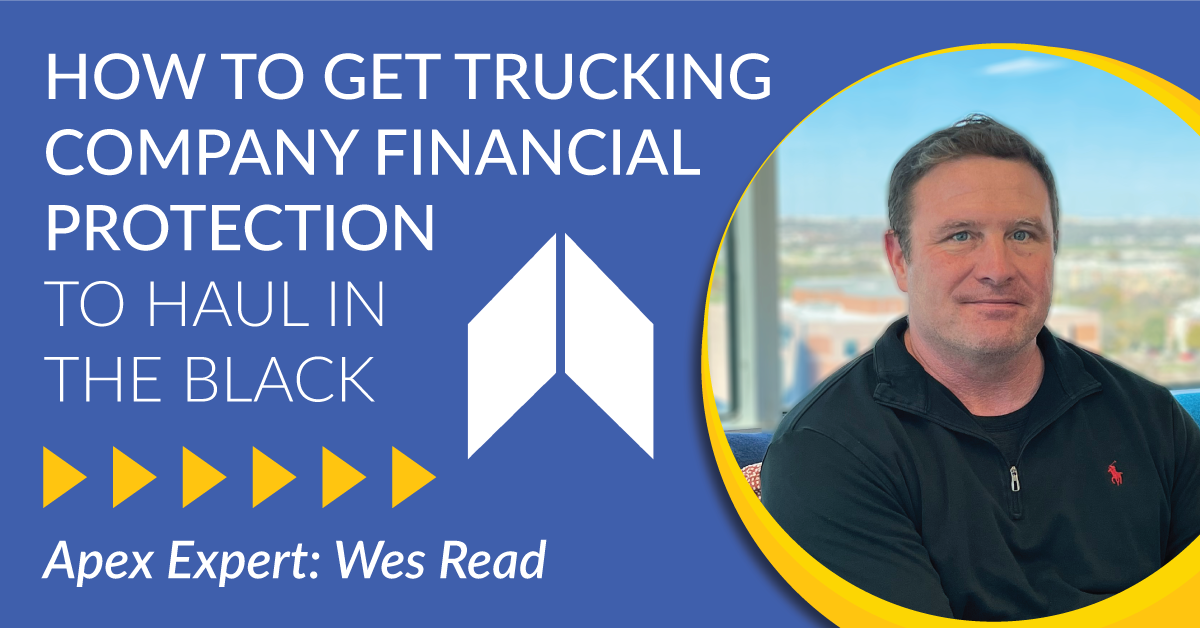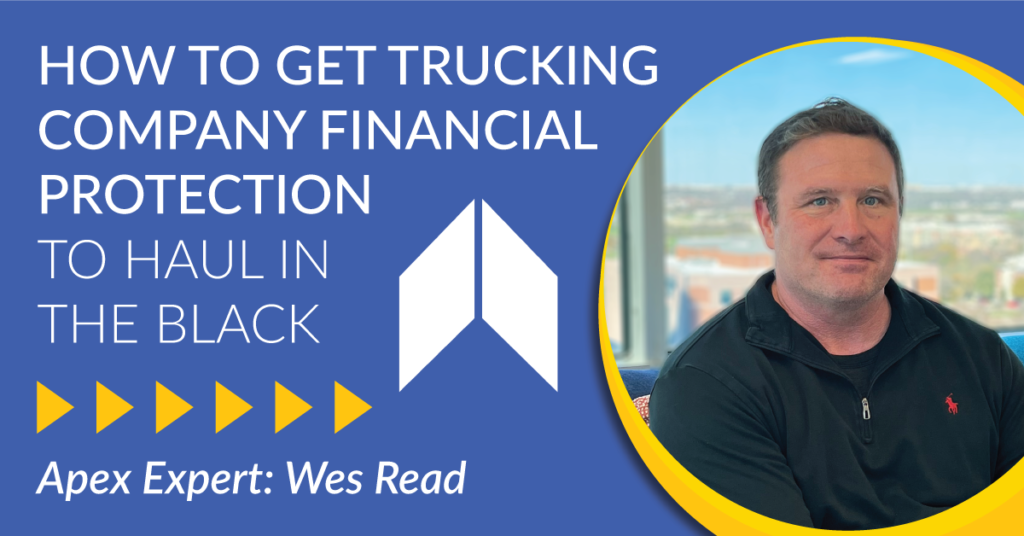 How to Get Trucking Company Financial Protection to Haul in the Black
---
Apex Experts: Wes Read Banks on Credit Management to Drive Success
Strong and steady finances are crucial in keeping trucking companies successfully hauling loads. That doesn't just mean scoring high rates per mile. It's also about building business credit and researching potential customers. Wes Read, Chief Credit Officer for Apex Capital, brings 29 years of experience in credit management. He understands the importance of cash flow, cash reserves, credit reporting, building better credit, and staying financially protected. He's here to offer invaluable advice on using tools and research to boost your business.
How do you make sure your trucking company is financially protected?
The first thing I always look at is really concentrating on building a cash reserve, having cash on hand, and having a budget. Don't let your yearnings exceed your earnings. Every small trucking company can be prone to that because operating your business costs more than you thought it would. And talking about costs, every small trucking company is susceptible to things like accidents, equipment failures, and driver issues.
Also, you can tend to grow too fast. You always, especially in this type of market, need to remain flexible. You need to be aware of what your business is doing out there. Do you have all your eggs in one basket? Do you have too much concentration on one supplier or one customer? If you do, if something happens to that one customer, how do you adjust?
Another important thing that carriers should always do is verify their bill of lading (BOL) has their company name on it. It's very important if something does go wrong because that allows for the opportunity to possibly pursue collection in another way.
Another way to protect yourself is to reduce your liabilities. Always know your coverage so that you don't skimp on your insurance. That's especially important for startup companies. Always be aware that small businesses are susceptible to cyber fraud. Be on the lookout and protect yourself.
Why is checking credit, knowing who you're hauling for, always a best practice?
That's so important and that's a good thing because at Apex you have free access to our check credits 24/7. You can do it on your cell phone, on your computer, or however you want it. You can get up-to-date information. You're relying on a group of numerous analysts and the entire Apex community. It's pooled information from experience, not only from what you've experienced but also from the whole client base at Apex. It's a vast database considering our experience and years in business.
If something changes with that broker or shipper, you're notified immediately. We give them a credit line, so if you are about to take a load, you know. Other people may give a rating, maybe A, B, or C, and you still don't know exactly how much volume can be safely carried. With credit checks, you know. We have vast experience from collectors that know the industry and they've been doing their job for a long time. They know the ins and outs of the business.
How do you improve your business's credit score?
The best way to do that is simple, make your payments on time. One way you can do that is by factoring instead of waiting 30, 45, 60, or 90 days to get paid. You can get paid upfront with Apex. Then you can build your cash flow. Also, regularly check your business credit. Make sure you've separated your personal credit from your business credit. Build relationships with your suppliers. If you're going to use them as references today, what are they going to say? Know what information they are going to give other people. Know what your best credit references are out there.
Lastly, there are services out there that have credit builder resources. They can be costly for what you get, and a lot of times your own actions are better than anything they can do. But it's available for you. I'm talking about D&B and Experian. These guys aren't the best for the trucking industry, but they are available. The good references for trucking are your tire suppliers and your mechanics. Are they reporting? Can you use them as business references? Just because they don't report doesn't mean that somebody can't. Those folks are going to be good references.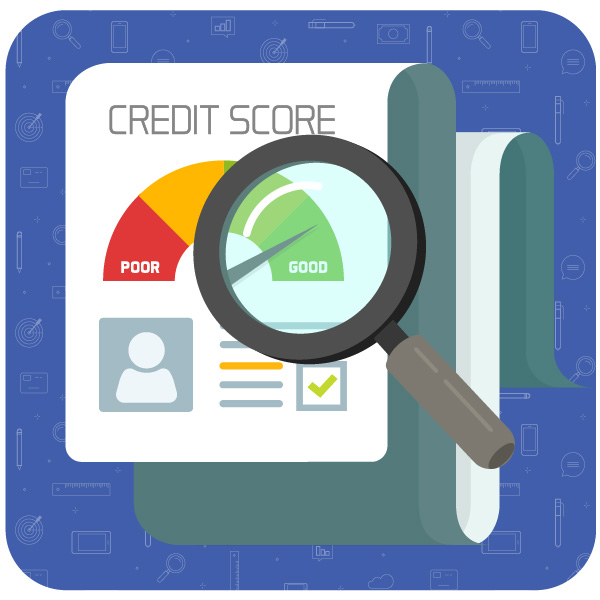 But in general, it's always better to know instead of not knowing. Check your credit report through, say, DNB, because you never know what could be out there. What if something is wrong in that credit report? Carriers and small businesses always need to be aware of what somebody's reporting on them.
Can factoring help a person or company build their personal and business credit?
Absolutely. The best way to do that is it increases your cash flow. You're not waiting for your suppliers to pay you on their timeline, you are utilizing the factoring company to pay you in advance you so you can move on to the next load. Here at Apex, we also always recommended that you haul for somebody that pays the highest rate, not that pays the fastest.
Factoring also gives you the opportunity to challenge your cash flow a little bit at the same time. Do we report to credit agencies? No, we don't. We purchase receivables. We're not a loan; we're not a bank. Can we help in that matter? No. But the big way that we can help is by increasing your cash flow as well as offering you credit checks to keep you informed of who you're doing business with. That's one of the best things we can ever do.
So, now you know the likelihood of this person paying for the load you haul instead of taking this load off the Internet and having no idea about it. With Apex, you have a little bit of research or a credit report on how they will pay.
Is factoring an option for trucking companies to establish better credit?
Exactly. Ultimately, if my cash flow increases, I should be able to pay my bills in a timelier manner. That goes right back in your favor. How do you financially protect your company? It is having cash reserves. It's having money out there for unexpected expenses. That's exactly how factoring helps you build your business.
---
Factoring is an excellent way to build credit as you increase cash flow. Apex factoring provides invaluable tools such as trustworthy credit checks so that cash flow becomes cash reserves. Visit our website or give us a call at 855-369-2739.