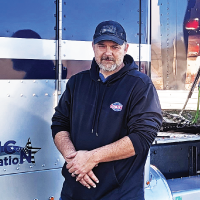 Cody Cross, Owner
HVMC Transportation LLC Salt Lake City, Utah
Efficiency and Professionalism Help HVMC Transportation LLC Weather Tough Trucking Market
Cody Cross spent 27 years as a driver, safety manager, fleet manager, dispatcher, and western area recruiter for Jones Motor Group in Pennsylvania. So, his transition in 2020 to being the trucking company owner of HVMC Transportation LLC in Salt Lake City was, as he calls it, "a natural progression." But the decision was more personal than that: "I started the company as a way to build something I could leave for my kids."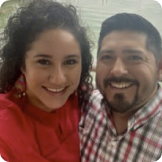 Mariela Flores, President
Roadrunner Freight Services LLC Hondo, Texas
Roadrunner Freight Services LLC Proves That Teamwork Is the Magic Key to Trucking Company Success
No. 14 in a series of case studies on Apex clients, focusing on Apex services that have been instrumental to their success, and their relationship with their Account Executive, Megan Black. Our 14th case study is Roadrunner Freight Services, an LLC run by Mariela Flores and her husband Edwardo Flores. They are based in Hondo, TX. We will tell the Roadrunner trucking story, their connection to Apex, how using the Apex fuel card, the mobile app, blynk, and credit checks has been company-changing for Mariela, who takes care of the day-to-day business. She also offers advice to somebody wanting to start a trucking company.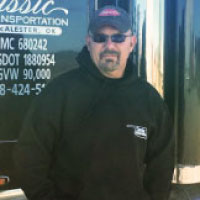 Buddy Hall, Sole Proprietor
Classic Transportation McAlester, Oklahoma
Classic Transportation Navigates Heavy Loads Across the United States
Buddy Hall, sole proprietor of Oklahoma-based Classic Transportation, runs his trucking company with a combination of business savvy, customer-focus, and plenty of do-it-yourself attitude. That's exactly why Classic has been going strong since 2009. Buddy has been an Apex factoring client since starting his company, which specializes in hauling marina construction materials and heavy equipment. Buddy takes advantage of many Apex tools and services to help him succeed – the Apex TCS Fuel Card with great diesel discounts, the blynk™ digital payment system to get his cash flowing in minutes, and the Apex Mobile Factoring™ App to make sending his freight invoices quick and easy. As an owner-operator who then became a trucking company owner, Buddy has plenty of firsthand advice on keeping customers happy and the importance of factoring. Read how Buddy keeps Classic Transportation running smoothly.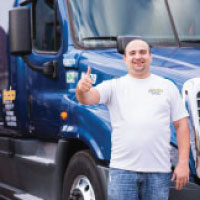 Peter Pshichenko, President
PDP Trucking Inc Cedar Hill, Texas
PDP Trucking Inc: From One Truck to 70 Owner-Operators
After 14 years in the trucking industry, Peter Pshichenko learned that staying flexible and taking necessary turns ultimately become the keys to success. This is how his PDP Trucking Inc, based in Cedar Hill, Texas, grew from one truck to 70 owner-operators. Peter and PDP have been Apex factoring clients for 10 years. That's a big decade. In that time his company has gone through some ups and downs and undoubtedly emerged all the better for it. Today, PDP remains strong by diversifying when it comes to hauling – refrigerated foods, dry goods, metals, machinery, and more. As an Apex client, Peter and his staff take advantage of the Apex TCS Fuel Card, Apex credit checks, our online invoicing system, the Apex Mobile Factoring App, among many services. Read about Peter's never-give-up attitude and his love for trucking.