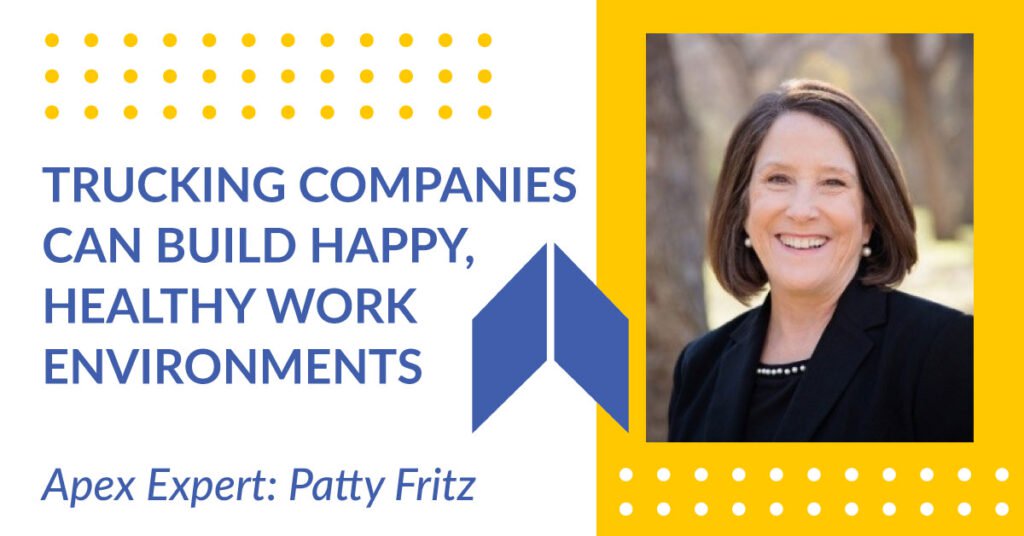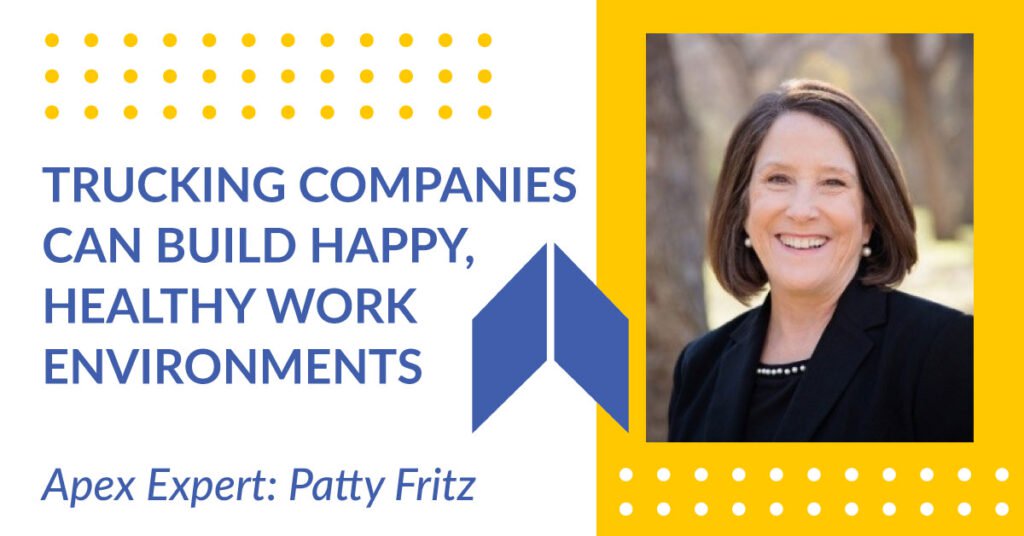 Trucking Companies Can Build Happy, Healthy Work Environments
---
Apex Experts: Patty Fritz Offers Advice on Hiring and Keeping Good People
The success of a trucking company depends on cash flow and customer service just as much as on having a team of good people working together. When you create a happy and healthy work environment, your employees do their best to help your company grow. Patty Fritz, Chief People Officer for Apex Capital, brings more than 30 years of experience in human resources. She understands the difference between a boss and a leader, a wellness program and health insurance, and recruiting verses hiring. She can help you make the most of your company culture.
How can you build a happy, healthy work environment?
A company must have values and the best way to get a happy healthy work environment is ensuring that you're hiring people that have those same values. An employee's personal values must align with the company's values for them to be their best every day. Also, providing a work environment that enables relationships is extremely important. To be able to build relationships whether it's at work or home requires giving trust, giving respect, and being vulnerable.
Those relationships help build a happy and healthy work environment. People need to know you care about them. If you want to build strong relationships, you must be able to share of yourself. Getting to know people and what they do outside of work helps to build a strong relationship.
The best companies also provide opportunities for growth – personal and professional growth, as well as opportunities to give back. The desire to give back is a very important for our employees. Also, having a workspace, such as a comfortable, personalize truck cab, that allows you to be productive
is important.
Is a wellness program more than just health insurance?
Providing a wellness program, no matter what kind of company it is, shows your employees that you care about them being successful at work, but also about them as a person and their wellbeing. A wellness program that offers opportunities for them to improve themselves physically and mentally really helps provide a happy and healthy work environment.
It's providing an opportunity for people to learn about nutrition, to learn what they can do physically, to enjoy challenges that get them out to walk around their truck or to drink more water or to eat healthier. You can also provide mental wellness through apps like Headspace. People do need the medical, dental and vision benefits. That's important, of course. But trucking companies can go beyond that and show they truly care holistically about every employee.
---
How can you be more of a leader instead of just a boss?
Try leading instead of managing. A leader is someone that people want to follow. A boss is someone that people are required to follow. Hone your leadership skills by doing more listening than talking. Ask more asking questions than give answers. It's about removing roadblocks instead of creating roadblocks. It's keeping a pulse of your team and understanding when someone needs help versus waiting for them to fail. It's inspiring confidence in others instead of always picking at things that someone does wrong. It's recognizing in public and coaching in private. It's making sure they know it's OK to make mistakes because that's how we learn.
A big piece of being a leader is being present. That means when somebody comes in to talk, you give them your full attention. You ignore the phone, you ignore the keyboard, you ignore all the whirlwind that's happening around you, and you focus on them. That shows you truly care, and caring is the difference between being a leader and being a manager. Being a leader means serving others, whereas being a manager is expecting to be served.
What are some hiring tips to find great truck drivers?
When you are recruiting, it doesn't matter where you are or where you go to find good people. It could be a restaurant. It can be at your son's Little League game. It could be in your church. Skills are transferable and so you should always be recruiting. When you find someone that displays those skills, you need to be talking to them about your organization and your opportunities. Always know what's happening out there so that you can be competitive in the market when you're hiring people.
Honesty is the best policy. Giving a realistic preview of the job is going to be extremely important, not over promising and under delivering. In fact, go opposite, make sure people understand what they're getting into. Successful hiring managers are open and honest. That honesty up front will create loyalty, which drives word of mouth and referrals.
In the trucking world, you must be fast. If you place an ad in the paper or online, you must work fast because drivers are picked up quickly. If you go more than 24 hours after someone has expressed interest in your opening, you're going to miss them. Be honest, give them a realistic job preview, and then create a happy, healthy work environment so you can retain those drivers.
How can you get to know and trust potential drivers before hiring them?
I talked to an owner of a trucking company, and he said to me that he spends 25 to 30 minutes with every single person that he interviews because he wants to get to know them, and he wants them to get to know him. It's only in that interaction that you can determine whether it's going to be a good fit.
At a point in my career, I worked on the logistics side of a well-known Texas retailer. Most drivers were hired internally because the company had a strong driver training program. They were warehouse workers, manufacturing workers, and store employees. It worked well because one of the major skills a driver needs is strong customer service, which all employees had – a desire to help others, a smile, and an optimistic demeanor. Those should be important to all trucking company owners.
---
Hiring and keeping good people is a foundation of every successful trucking company. But so is steady cash flow. Apex factoring can help your business grow with fast cash, tools, services, and excellent customer relationships. Become an Apex factoring client today! Visit our website or give us a call at 855-369-2739.