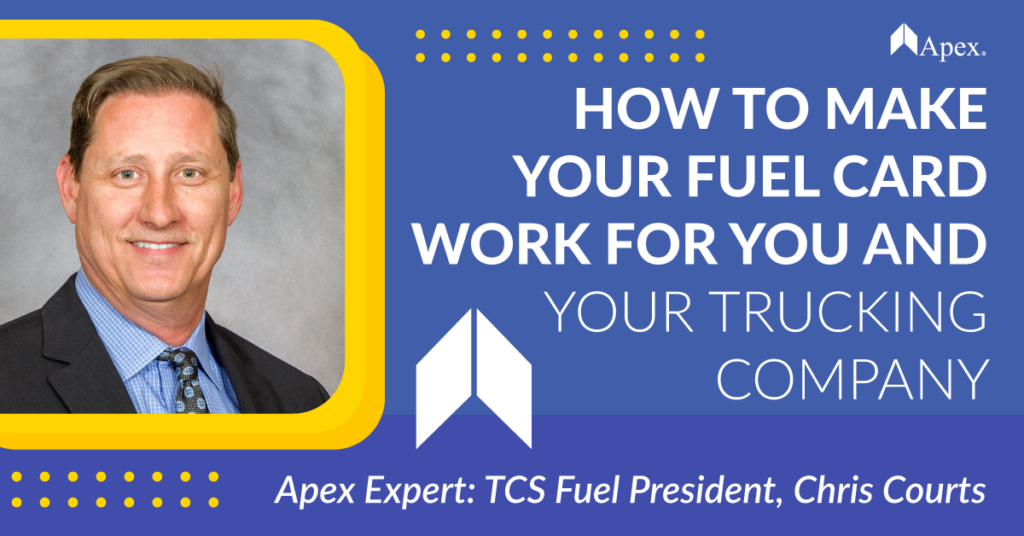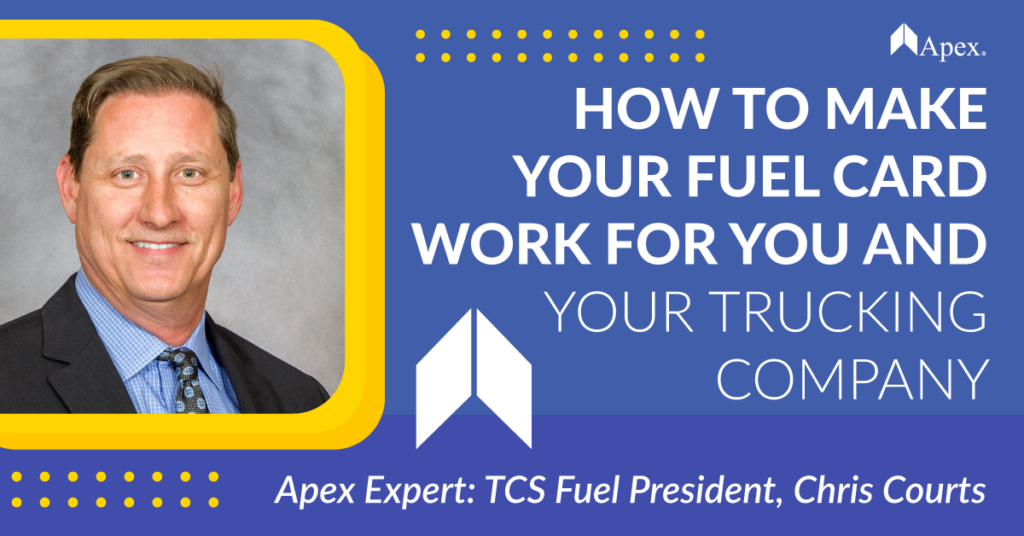 How to Make Your Fuel Card Work for You and Your Trucking Company
---
Apex Experts: TCS Fuel President Chris Courts Has Insights to Save Money and Ensure Safety
A fuel card should do more than save you a few cents per gallon of diesel. The TCS Fuel Card can do more. Chris Courts, President and Managing Director for TCS Fuel, a wholly owned subsidiary of Apex Capital, brings 25-plus years of experience and expertise in the fuel card industry. He knows the ins-and-outs on fees, fraud, and discounts at the pump. He has valuable industry information as well as great tips on staying in control, so your trucking company remains successful.
What do truckers need to know about diesel pricing in the fuel market?
There are four components to diesel pricing. The cost of crude oil makes up 40% of the cost of diesel distribution, marketing is 25%, taxes are 23%, and the cost of refining the crude oil adds 12%. Anything that affects any of these four diesel price components will naturally affect the price charged for diesel at the truck stops. The most volatile component is the price of crude oil, which is impacted by events such as international wars and conflicts, spikes in demand, natural disasters, terrorism, and oil speculators, folks who try and predict the future price of oil and buy or sell based on those predictions domestically.
---
---
Crude oil prices can also be affected by refinery shutdowns and pipeline leaks and shutdowns. Paying attention to current world events can provide clues as to which direction crude oil pricing will go. Having a TCS Fuel Card literally helps level the playing field between small carriers and large carrier competitors.
How can trucking companies save more on diesel fuel?
The number one way to maximize your fuel discounts is to use the TCS Fuel Finder, which is a free resource available on the TCS Website and TCS Mobile App. The fuel finder allows you to determine the biggest savings on fuel in the TCS discount truck stop network in a specific city or along a specified route.
The fuel finder lists the truck stops responsive to your search and ranks them from lowest to highest price. There is also a list of parameters that can be adjusted and customized for each client, including the search radius and whether to include out-of-network locations in the search.
The fuel finder lists the truck stops responsive to your search and ranks them from lowest to highest price. There is also a list of parameters that can be adjusted and customized for each client, including the search radius and whether to include out-of-network locations in the search.
But beyond fuel discounts, it's important to understand the fees you are being charged by your fuel card company. Many fuel card companies have set up fees, monthly fees, annual fees, and card replacement fees. Many also charge a transaction fee at the truck stop and a monthly fee for each active card that you have. And there are lots of other miscellaneous fees that you may be subject to.
The best ways to understand the true cost of using your fuel card is to review your fuel card provider service agreement, which should disclose all fees, and to review your fuel statement. TCS not only has industry leading fuel discounts for small carriers, but we charge $0 transaction fees for in-network fuel purchases, and we have no setup fees, no monthly fees, no annual fees, and no card replacement fees.
Where can you see the fuel card fees you pay?
We know from our own competitive research that there are a ton of fees. But the owner of the company may not be the one that's down in the weeds reviewing the weekly fuel statement. I believe there is a huge disconnect between the true cost of running your fuel card program and what you think it is.
Take out the guesswork by looking at your most recent fuel card statement from your current provider. Those fees will be on there. You may have to know what you're looking for, but they're on there. You can also look at your agreement and legally any fees would have to be disclosed in the agreement.
How do you control fuel purchases and maintenance costs?
The TCS Fuel Card puts you in complete control of your fuel program. You can customize each fuel card by choosing which products are authorized on the card. You can even set daily or weekly limits by product type by limiting the products that can be purchased on the fuel card and by maintaining reasonable daily or weekly limits for fuel, DEF oil and other products you allow your drivers to get. That's how you minimize your exposure to unauthorized purchases.
How can a fuel card assist in trucking company growth, safety, and accountability?
It's about knowledge and scrutinizing your fuel bill. Modern trucks have electronic computer modules (ECMs) that track information about the truck, including and primarily the miles per gallon. You can monitor the miles per gallon for every truck in your fleet. We can send you the greatest reports in the fuel card industry, but you've got to review them and reconcile your fuel bill. The checks used in the industry is also a big one. If you give a driver a check for $1,000, then the driver has two choices, either to turn in a receipt for reimbursement to show that they used that $1,000 check to pay for maintenance or get billed back for the $1,000 because they didn't produce proof.
Have good controls and processes in your company to make sure that you're only paying for authorized purchases and that you're getting receipts and reconciling the checks to make sure what you're paying is correct. Monitor the data that's available and compare your drivers to each other. If everybody in the fleet's getting 7 miles a gallon, you got Chris over there that's getting 2 1/2, something's going on with Chris. His truck has significant maintenance problems or he's selling fuel to other drivers at truck stops.
If you have a CB radio and you drive around lots of truck stops, you will hear people say, "Hey, I'm at the TA in West Memphis, Arkansas. I'm selling fuel for $1.50 a gallon. I'm in a silver freight liner." It's blatant fraud. If you're not looking at that stuff, you're opening yourself up to fraud. Drivers stealing fuel using their fuel card is the number one problem in this industry for as long as I've been in it.
If you have drivers that work for you, then all they need on a regular basis is diesel, DEF and oil. Anything else they might need can be done through a product override so you can override the purchase policy for a one-time purchase. Your driver needs to go use the scales? You can authorize that card to allow scales only on the next transaction. If you know that a driver can only use 200 gallons of diesel a day times 7, that's 1,400 miles in a day. Then don't let the driver get 500 gallons on a purchase. Set the purchase limit to 200 gallons. So, you're giving the driver access to the products they need to deliver that load, but you're not overexposing yourself by allowing them limits that aren't reasonable.
---
Are you ready to apply for a great fuel card that will do more for your trucking company? Apply here for your TCS Fuel Card.