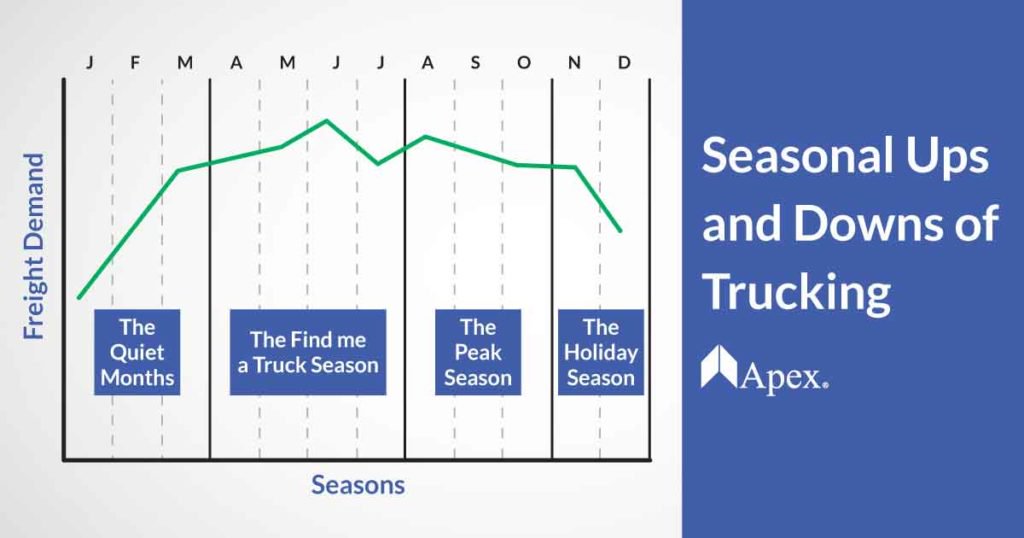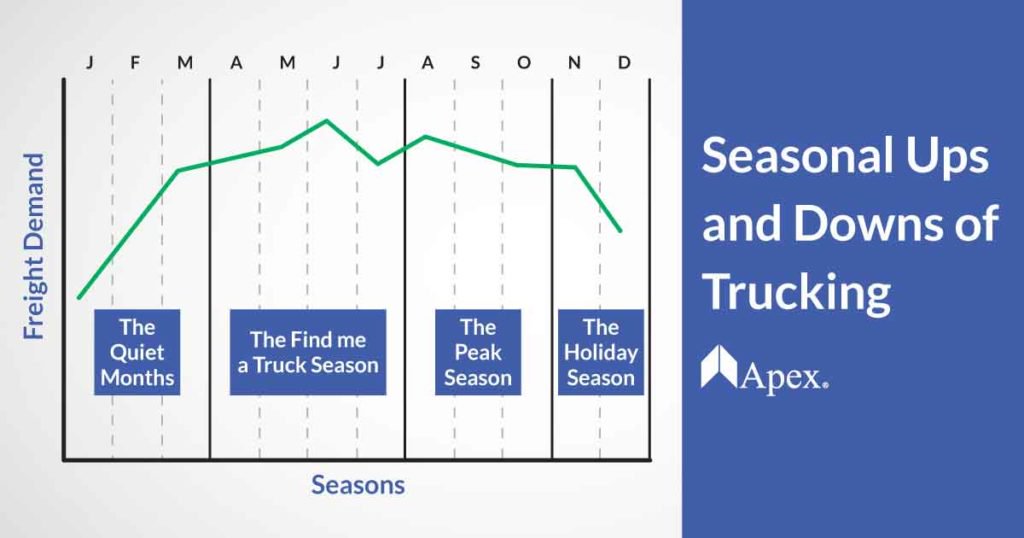 Being prepared for the seasonality of trucking changes is incredibly important. Anticipating the dipping and soaring of freight rates, fuel prices, and market demands in accordance to the different seasons of the year makes you a smart business owner ready to maximize profits and save money.
Four Seasons of Trucking
Strategically, truck shipping seasons are divided up roughly like quarters in a corporate calendar. Season one is January through March, season two is April through July, season three is August through October, and season four is November through December. Some freight brokers have dubbed each season a clever, descriptive name: Season one is "The Quiet Months," two is "The Find Me a Truck Season," three is "The Peak Season" and four is "The Holiday Season."
Typically, the two middle seasons of the year are the busiest. The first season is the slowest, and the fourth season is healthy until just before the Christmas holiday. The most recent DAT Trendlines report noted a series of upward freight rate movements for the week ending October 7. Rate gains are solid, and the van rate is its highest since December 2014. Reefer and flatbed rates are also at noteworthy highs.
Budgeting for Seasonality in Trucking
The key here is to prepare for the volatility of the trucking industry. Put a budget together and plan.
"If I had a trucking company, I would want to know my breakeven and my target rate-per-mile. I would create a budget with my monthly expenses, plus my estimated one-time expenses," says Dane Watts, Account Executive at Apex Capital Corp. "I would then divide my monthly and one-time expenses by the total number of miles I can drive in a month. This is my breakeven per-mile rate that I need to stay in business. Then I'd add my desired monthly profits and my desired monthly savings to the monthly estimated expense and divide that by the number of miles I can drive each month. That's my target per-mile rate."
Freight Factoring Promotes Financial Stability
Even with budgeting for seasonality changes there will always be unexpected circumstances affecting freight rates and freight types. For instance, hurricanes Harvey and Irma naturally created hauling demands for food, clothing, dry goods, and even automobiles. That is certainly understandable given the destruction of both storms. This is the perfect time to have the positive cash flow that Apex freight factoring brings. Factoring promotes financial stability in an industry that's frequently unpredictable.
Plus, fuel and freight rates can also correlate. When fuel prices go up, freight rates go up. But if you're driving more miles to deliver a load, those upticks in rates might not actually result in profit for your pockets.
So, as we advised before, the key here is to budget, budget, budget. A budget will help keep your trucking company in the black no matter the season.
If you need cash flow assistance as you put together that budget, Apex's award-winning freight factoring services are here to help. Give us a call at 855-369-2739 or get started today.