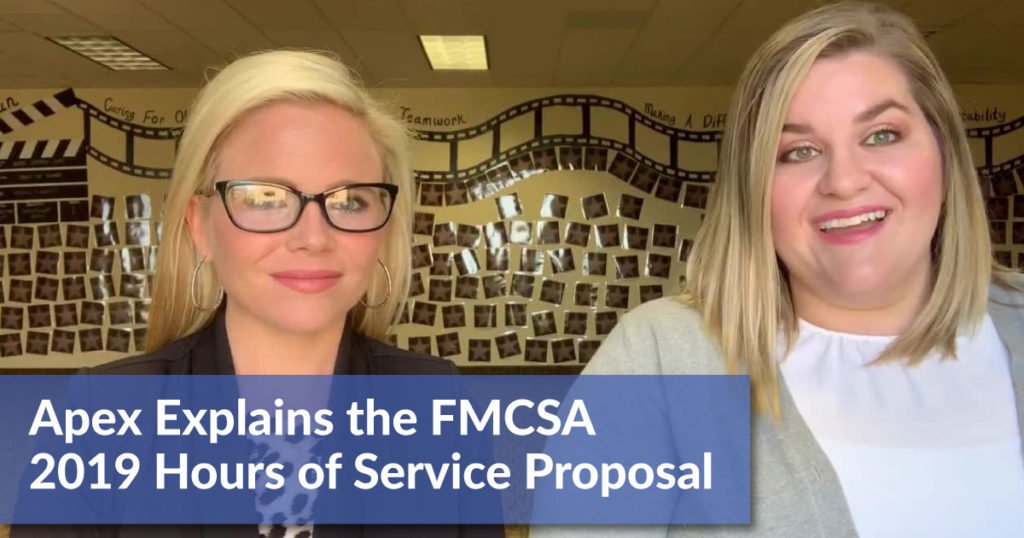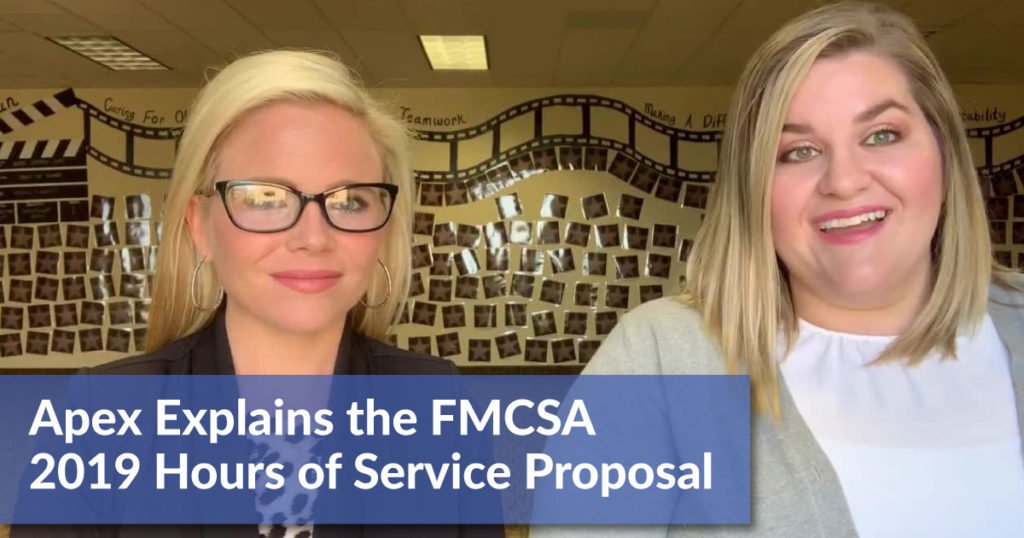 FMCSA 2019 Hours of Service Proposal
On Aug 14, the FMCSA published its long-awaited proposal on changes to the Hours of Service rules. I (Hannah) sat down with Reghan Grasty, Associate General Counsel here at Apex, to explain what the proposed changes could mean for truck drivers.
Watch the video here or read the transcript below.
---
Video Transcript
It's Hannah and Reghan with Apex Capital. Thanks, so much for joining us, we're here because some pretty big news broke yesterday when the FMCSA officially published their proposal for hours of service changes. There are five key areas that they've focused on and we're going to break down what those five areas are and then we'll talk about what you can expect to happen next.
---
So, up first we have the:
30-minute rest break rule: You still will have to take a 30-minute rest break after eight hours of consecutive driving, that is not changing. But what you're going to be able to do is take that 30-minute rest break on duty, not driving as well as off-duty or in the sleeper berth. So that gives you more options and flexibility to be able to plan when and where you want to take your break.
Next is the:
Off-Duty Break: Gives you a break of at least 30 minutes up to a maximum of 3 hours. This break will pause a truck drivers 14-hour on duty consecutive driving period. So, this could be used for something like waiting out traffic which will give you more flexibility, just keep in mind that the 10-hour restart still applies so you'll need to take 10 consecutive hours off duty in order to restart that 14-hour day clock.
Speaking of the 10-hour break the next rule is the:
Sleeper Berth Rule: Right now you can do an eight to two split for your off-duty time. This is where you spend eight consecutive hours in the sleeper berth and then the next two hours can be spent in the sleeper berth or off-duty. What the FMCSA is proposing is that you can do at least seven consecutive hours this update will change the length of time you can split your required 10-hours off duty breaks. The FMCSA is proposing to change that to at least 7 consecutive hours in the sleeper berth and then later at least two consecutive hours in the sleeper berth or off-duty. This change gives you more flexibility to plan your day.
Next up:
Adverse Driving Conditions: This proposal is to add two hours to the current adverse driving condition exception. Currently, when there are adverse driving conditions like extreme weather, a snowstorm, fog, or unpredictable traffic two hours are added to your 11-hour maximum on-duty driving time during your 14-hour workday period. This new rule would add two more additional hours to the entire work period giving you 13-hours of driving time and up to a 16-hour work period.
It's important to keep in mind you still need to adhere to your normal 30-minute rest breaks after every 8 consecutive hours driving.
The fifth and final one is the:
Short Haul Exception: Currently certain carriers are relieved of the mandates related to logging especially using electronic logging devices (ELD) if during the workday you travel no further than a 10 air-mile radius and can complete your trip, both to the destination and back, within a 12-hour period. The change proposed to this rule will broaden this exception adding an extra 50 air-mile radius, allowing you to go 150 air miles out and adds two more hours to the workday taking it from 12 to 14 hours to start and end your workday.
That's all 5 areas! We know they're all small changes that get you an hour here or 50 air miles there. But it's too add more flexibility to help drivers be able to plan for things that they can't control, help them all-in-all change their day, and work with the clock that they have.
So, what can we expect to happen next?
Well, this proposal will be published in the Federal Register in a few days and then they will open up public comments. Public comments will be open for 45 days and the whole comment period is for you to tell the FMCSA is you agree with the changes, if you disagree, or if you think that they can be tweaked more. That means the FMCSA wants to hear from you! After the comment period closes the FMCSA will go through the comments to see if any of the five proposed rules need to be adjusted and then at some point, it's predicted that it will be later this year or early 2020, they will propose a final rule with a future effective date. To leave a comment about the proposed rules you can go to www.regulations.gov and search for the docket number FMCSA-2018-0248.
That's all we have, we hope this helped you and thanks for watching!
---