15 Trucking Terms You Should Know
by

Jessica Ward | August 13, 2019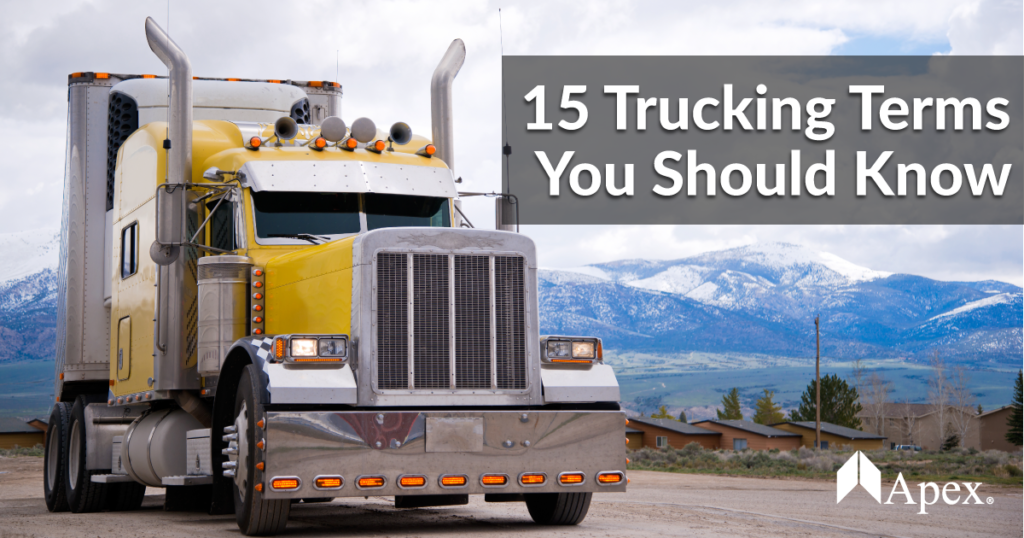 Your Personal Trucking Dictionary:
15 Trucking Terms You Should Know
It can be a challenge to remember where you put your keys, let alone the many words, phrases, and acronyms that are used in the transportation industry. Whether you've been in the trucking business 10 years or just two, you know that there are many terms to remember.
Think of this as your personal trucking dictionary or cheat-sheet to get you through the days when finding your keys is the easiest part. Here are a few common questions, as well as a refresher of 15 trucking words you should know.
I already have a United States Department of Transportation (USDOT) Number, so do I need a Motor Carrier (MC) Number?
It depends on where you haul loads. A USDOT Number and MC Number are required for interstate carriers – truckers who are crossing state lines, but intrastate carrier requirements vary by state. You can easily check to see if you need a USDOT Number here.
Let's get into some other basic trucking business terms:
Department of Transportation (DOT) – Federal agency that formulates transportation policy and oversees transportation activities.
Federal Motor Carrier Safety Administration (FMCSA) – Department of DOT that is responsible for implementation and enforcement of commercial motor vehicle safety regulations. Companies that operate commercial vehicles hauling cargo need to be registered with the FMCSA and have a USDOT and/or MC Number issued by the FMCSA.
Commercial Driver's License (CDL) – License required to drive a commercial motor vehicle (CMV). An applicant must have higher skills and knowledge than what is required for a standard driver's license. Yearly physical exams are needed to maintain a license. Expiration and renewal dates vary state to state but are typically five to eight years.
Authority –There are different types of operating authority granted by the FMCSA, like Freight Forwarder, Broker of Property, and Motor Carrier just to name a few. Motor Carrier authority grants for-hire motor carriers the right to operate in interstate commerce.
Electronic Logging Device (ELD) – A device that electronically records the number of hours a driver has worked in accordance with Hours-of-Service (HOS) rules. ELDs have replaced the paper logbooks that were once used and are now required by the FMCSA. It is a good idea to keep a backup logbook just in case your ELD stops working.
What do I need to know for my trucking business?
We talked about some general trucking terms, but there are terms you should know for your trucking business.
Accounts Receivable (AR) – the money owed to your business from your customers for a provided service. Essentially the money that you need to be paid.
Cash flow – Money that flows in and out of your business due to income and expenses. Positive and steady cash flow is achieved when your trucking company has money remaining after your operating expenses.
Net Terms – Terms of an agreement in which payment is due within a specific amount of time. Typical net terms are 30-60 days after delivery. Trucking companies often wait longer than the net terms to get paid or need cash faster than that to keep trucks on the road or meet other expenses.
Credit Checks – A way to see how a potential customer's business is doing. Requesting a credit check for a potential customer is a great way to get a look into their financial backing and trustworthiness. At Apex, clients can run free credit checks before they decided whether to haul a load.
What is required to get my freight bills paid?
Getting paid is the most important part of any business, so you need to know what's needed. Keep track of any original documents that might be required for load payments.
Freight Bill/Invoice – Bill given to customer detailing the type of freight hauled, where it was taken, and the amount of charges it has been billed for. A freight bill often includes a cover sheet, rate confirmation sheet, and a Bill of Lading. You will also want to make sure that you keep any extra paperwork or receipts that can possibly get reimbursed by the customer.
Rate Sheet/Rate Confirmation – Agreement between carrier and broker on where the load will be hauled and how much the payment will be.
Bill of Lading (BOL) – Contractual document stating who oversees payment, whether the shipment was received, and what was in the shipment.
Apex clients can create and upload freight invoices quick and easy using tools like the Account Management Portal and our free Mobile Factoring™ app.
---
Apex is Here to Help!
---
This sounds like a lot of work, how to I do all of it?
Don't worry, Apex is here to help! If you want to start your own trucking company, The Apex Startup Program can file the necessary documents for you to get your authority. Once you are on the road, you can factor your freight bills with us to gain a steady cash flow. Your Account Executive will be there step-by-step to help you grow as well.
Freight Factoring Company – Company that buys your freight bills so that you can get paid faster. Factoring is an easy way to manage cash flow. At Apex, we buy invoices for the freight you've already hauled, so it's money that's advanced on accounts receivable. You can get paid as quickly as the same day that you submit an invoice!
Account Executive – Your own personal account manager available to answer any questions you have, guide you through the factoring and cash flow process, as well as assist in keeping your trucking company successful.
Account Management Portal (AMP) – Apex online account management website that allows you to submit invoices, request funds, see fuel savings, and more!
---
Apex is your one-stop shop for factoring, credit checks, fuel savings, and even starting your trucking company with our Start-Up Program. We have it all at your fingertips. To learn more about the services Apex provides, visit our website or give us a call at 855-369-2739.
Thank you for subscribing!
I have worked in the Auditing Department at Apex Capital for almost two years. I am currently working towards a degree in Mass Communications. Along the way, I have taken a few economic and finance classes to meet my degree requirements and thought I would share some of these helpful tips!