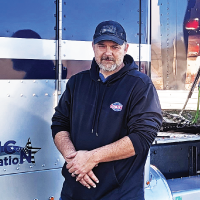 Cody Cross, Owner
HVMC Transportation LLC Salt Lake City, Utah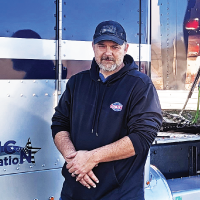 Efficiency and Professionalism Help HVMC Transportation LLC Weather Tough Trucking Market
---
Cody Cross spent 27 years as a driver, safety manager, fleet manager, dispatcher, and western area recruiter for Jones Motor Group in Pennsylvania. So, his transition in 2020 to being the trucking company owner of HVMC Transportation LLC in Salt Lake City was, as he calls it, "a natural progression." But the decision was more personal than that: "I started the company as a way to build something I could leave for my kids."
Cody has been an Apex factoring client since January 2021. HVMC Transportation currently owns seven trucks and four leased trucks. HMVC hauls air cargo, ocean cargo, telecom equipment, and general freight. The company focuses on transporting critical freight, loads that absolutely cannot be late, along with a fixed route from Salt Lake City to Denver, Colorado. About 90% of the company's business comes from six or seven steady customers.
Such loyalty speaks volumes about Cody's commitment to efficiency and professionalism. Out of 9,000 loads, he says, HVMC has a 99% on-time record year-round – that includes winter. That number becomes more impressive when you consider the territory travelled. "Aside from Canada, the Rocky Mountain lane we run is the most difficult in the country as far as terrain and weather," he says.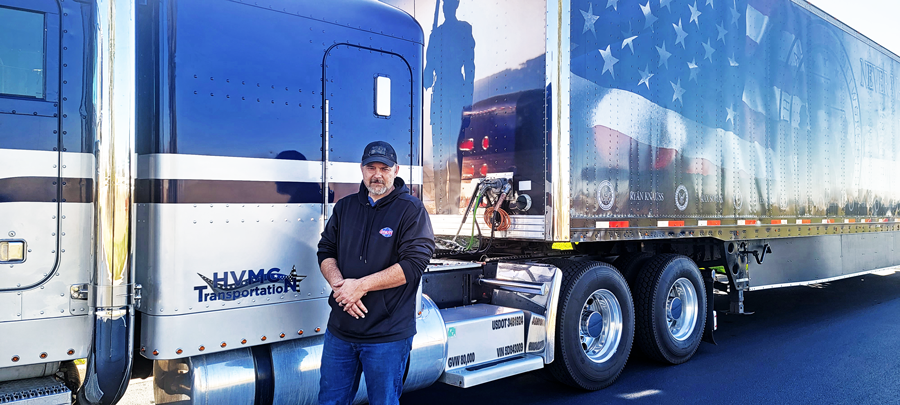 Holding Up and Prospering During Difficult Market Conditions
Given such a specialized focus and such a fixed commute, how is HVMC holding up during the tough market conditions affecting the trucking industry? "We are probably faring better than most small carriers because of what we do and what we haul," says Cody. "When we pick up air freight, it must be there on time at Denver airport, or they will miss their flight and that will cost them thousands of dollars. So, it makes sense for them to pay a premium rate to get it there."
Then, similarly, what advice does Cody have for truckers trying to survive these trying times? "Negotiate your best possible rate," he says immediately. "The other is efficiency. If you can control your loss, you can bring your market back up. Control fuel, truck maintenance…manage all this and it will be possible to weather the market as it is now."
Cash Flow Leads to Factoring
Cash flow is make or break for trucking companies even in the best of market conditions. Its importance multiplies during a rough commercial trucking environment. That is precisely why Cody, even with his vast experience in the industry and having already travelled to all 48 contiguous states, chose to factor.
"It's a cash flow issue," he says. "Even when we have a great margin and plenty of money, I still factor. The cost for me to factor is less than all the services Apex does – credit checks, aging, triple check paperwork. The cost for me to outsource those things would be more than paying the factoring fee. For me, this is a financial partnership; someone more financially stable than me is there. We maintain a clean business and that's why we want a financial partner that sees it in their best interest for us to stay in business."
Stability Makes Apex the Obvious Choice
So, why did Cody choose Apex? "Apex was by far the cleanest factoring company I could find. You are a stable financial partner. You provide a safety net at a better price. You bring something to the table that small carriers without much experience can't have. Having the right financial partner in and of itself can make the business more stable."
At Apex, Cody regularly uses the Apex TCS Fuel Card, our blynk® digital payment system, access to 24/7 credit checks on his potential customers, and the Mobile Factoring™ app. He also works closely with his account executive, Dane Watts.
"Dane is phenomenal," says Cody. "Anytime I have an issue, Dane is responsive. He doesn't pass the buck. It's all a matter of how it is dealt with. In my industry, I don't have time to wait 5, 6, or 7 days for something financial. He knows how to get things done. If there is something he can't get done, he gives me another solution."
Tribute to Fallen Heroes Becomes a Solemn Organization
Cody Cross always seeks solutions for his trucking company and for the brave men and women who put their lives on the line to keep us safe. He founded the Fallen Hero Network in 2020 as a non-governmental organization (NGO) that benefits first responders, national guard, police officers, fire rescue, veterans, and line of duty deaths in Utah. Started after the line-of-duty death of a police officer, FHN provides support services, supplies, and logistical needs for the families.
"It is 100% volunteer; nobody gets a dime," he says. "We do have a group that makes the decisions together, so no one person dictates anything."
HVMC's truck, which is featured in the 2024 Apex Capital Client Calendar, is a beautiful, solemn tribute to fallen heroes with images of the American flag, military soldiers, and a cemetery. Tying the imagery together is the prophetic phrase from the Winston Churchill wartime speech delivered in 1940, "Never was so much owed by so many to so few."
To preserve the memory of those who lost their lives in the line of duty, Cross' Fallen Hero Network embarked on an ambitious 48-state tour. The Hall of Heroes is a trailer converted into a fully immersive exhibit that honors veterans. The 3-year tour will begin in Seattle in early 2024 and will eventually end in Manhattan on the 9/11 anniversary.
"Even though a large portion of what the Fallen Hero Network does is local because those we benefit are in Utah, we do think nationally," says Cross. "We always look for opportunities with charitable organizations, properly vetted, and that align with what we want to accomplish."