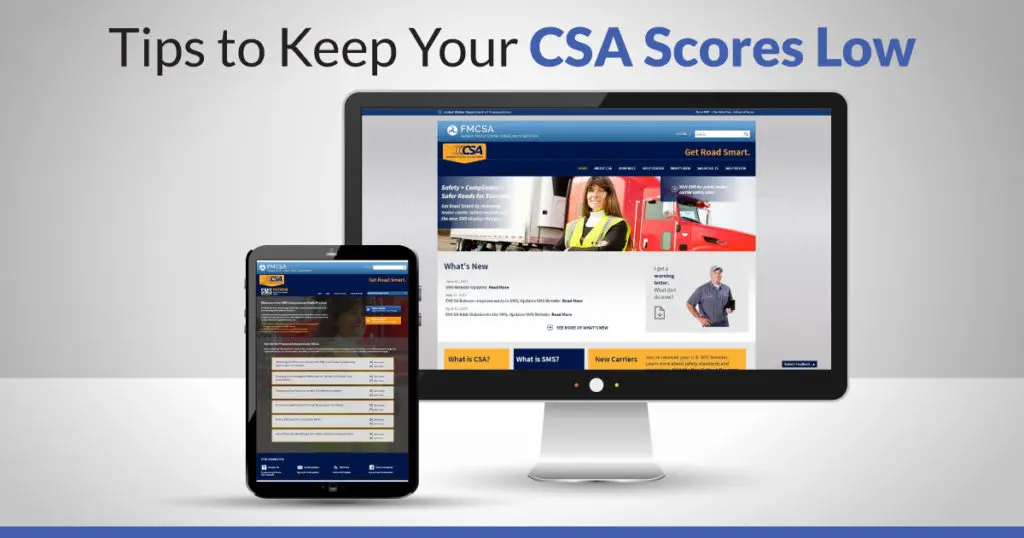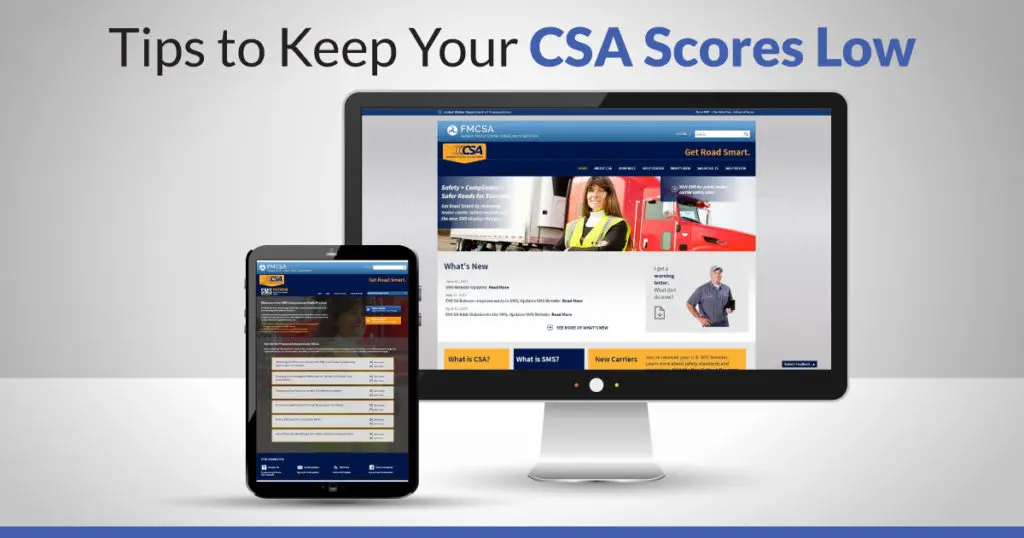 How Keep Low CSA Scores
We've been conditioned to believe that high scores usually spell success: Ace that test with a fat 100!
Keep that IQ in the triple digits! Rack up those touchdown points!
But in the world of commercial vehicles, especially trucks and buses, a low score is the key to staying DOT compliant and competitive. CSA, which stands for Compliance, Safety, Accountability, is the safety compliance and enforcement program of the Federal Motor Carrier Safety Administration (FMCSA). A low CSA score is always the target. Low CSA scores keep your business free of FMCSA warning letters, the business-busting humiliation of that poor score, and any further governmental investigations. Most importantly, a low CSA score keeps your trucking company safe and in-demand.
What exactly are CSA scores? The FMCSA measures the safety performance of commercial drivers and vehicles with a cumulative number that combines roadside inspections, safety violations, reported crashes, state and federal investigations, and motor carrier regulations. Data on your company's safety practices is stored online in FMCSA's Safety Measurement System (SMS) portal, which gets updated once a month. That portal contains information from roadside inspections, including driver and vehicle violations, crash reports from the previous two years and any investigation results.
The FMCSA then organizes all that SMS data into seven Behavior Analysis and Safety Improvement Categories, otherwise known as BASICs:
Unsafe Driving – Speeding, no seatbelts, driving recklessly, inattention.
Crash Indicator – Accident history (not public info).
Hours-of-Service Compliance – Any noncompliance with HOS regulations, including logbooks.
Vehicle Maintenance – Brakes, lights, defects, failure to make necessary repairs.
Controlled Substances/Alcohol – Use or possession of controlled substances, alcohol.
Hazardous Materials Compliance – Leaking containers, improper packaging (not public info).
Driver Fitness – Invalid license, medically unfit to operate a commercial motor vehicle.
So, what about those CSA scores for drivers and trucking companies? This SMS data gets your company grouped with carriers that have similar profiles and from there a percentage from 0 to 100 is generated. If your specific data in any of the seven BASICs categories pushes you to 65 percent or higher, expect a letter from the FMCSA and possibly an investigation. What is a good CSA score? You want to stay below that 65 percent pool, and if you're a hazmat carrier you must maintain a score of lower than 60 percent.
Plus, for each BASIC violation you are assigned a severity weight that reflects how much of a crash risk you or your truck is. Those violations thought to have a greater, more direct impact on potential crashes bear more weight and get higher numbers. If the violation is reckless driving, which could certainly cause an accident, the severity weight could be as high as 10.
When talking about how to lower CSA scores, there's no way around the surprise DOT inspection that can happen smack dab in the middle of a delivery. Nobody looks forward to that, especially since that inspection will certainly affect your CSA score. But you can be ready for it. It doesn't have to be a shocker. We put together a report on how to prepare for a Level 1 DOT Inspection. But in a nutshell, conduct your own pre-trip inspection by checking your lights, checking the engine, checking your tires, checking your brakes, inspecting the inside of the cab, testing the engine and horns, and doing a general walk-around inspection. It's all obvious stuff, and it could make a huge difference in earning that low CSA score.
Speaking of low CSA scores, the ELD folks at KeepTruckin put together a great blog report titled "6 Simple Secrets to Improve Your CSA Score." Apex Capital Corp recently partnered with KeepTruckin to offer our clients a discounted ELD solution for their trucking company. Using an ELD not only keeps you FMCSA compliant with the upcoming December 18, 2017 mandate, but it promotes low CSA scores because drivers and dispatchers can keep close tabs on hours-of-service (driver and vehicle), and there's no need for faulty, outdated handwritten log books. The ELD records it all electronically and sends out an alert when a driver is about to receive a violation if they keep driving.
In addition to the tips we've mentioned above, all of which can help lower your CSA score, here are a few more:
Challenge citations – You have two years to dispute a violation that can lower your CSA score.
Hire wisely – Make sure he/she can properly fill out paperwork, speak to DOT officers, etc.
Be healthy – Because driving while physically ill can set you back a staggering 10 points.
Avoid driver fatigue – Exercise takes care of that, so does well-timed breaks and adequate rest.
Keep important documents – Keep them close to you, maybe in the glove compartment.
Exercise – Even a simple walk after hours of driving works wonders for the body and mind.
There you have it: A few easy, manageable tips to improve your CSA score. The name of the game here is to keep you DOT and FMCSA compliant, which in turn makes your trucking company a top contender for those awesome, big-money loads. And remember, in the CSA world a low score aces the test.
Let Apex improve your cash flow with client-focused freight factoring, plus a batch of free services including the NextLOAD.com load board, the Mobile Factoring ™ App and real-time credit checks. Visit our website or simply give us a call at 844-827-4524.