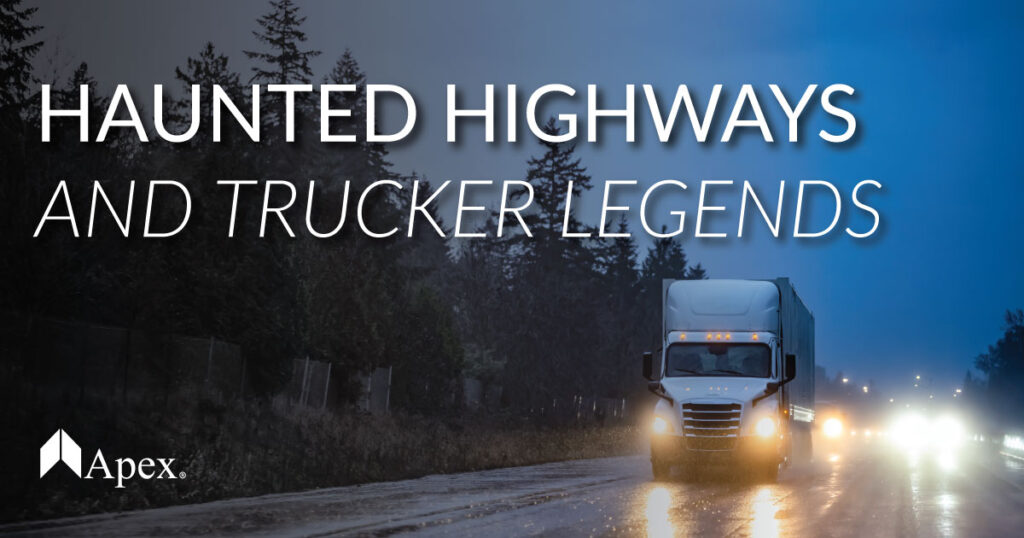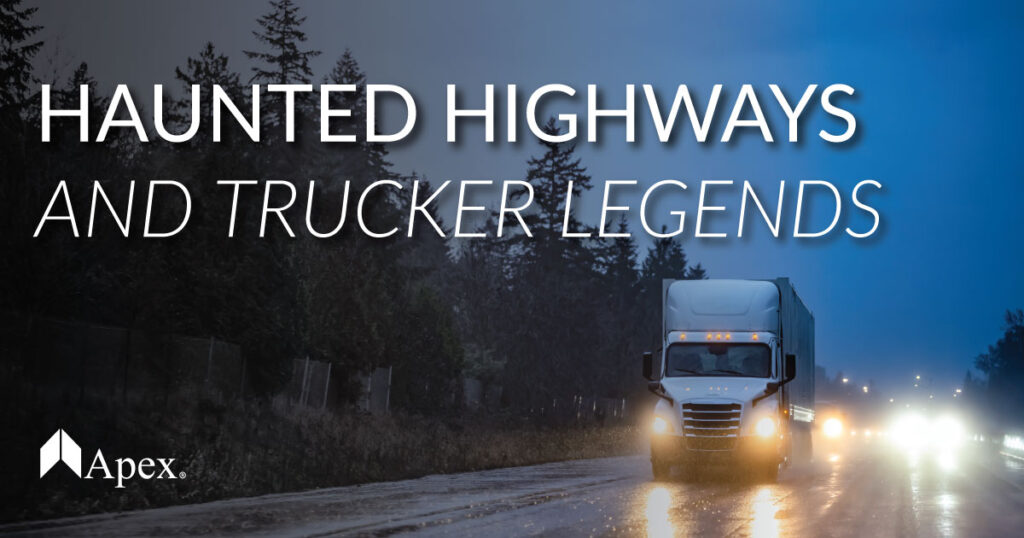 Haunted Highways and Trucker Legends: Eerie Encounters on America's Roads
---
Truckers travel much of the country, trekking from coast to coast, through winding roads, and all sorts of busy byways. With so many miles under their 18 wheels, they are bound to run into haunted highways. You know, the spooky stuff of trucker legends.
Trucker Legends Come to Life Along Haunted Highways
The Ghost Boy of Clinton Road
According to folklore, Clinton Road in West Milford, New Jersey is home to the ghost of a boy who either drowned underneath a bridge or was struck by a car. Naturally, he now haunts the road, specifically the bridge near the Clinton Reservoir. He is known to throw back coins that people toss into the creek. Some folks have even reported seeing the boy's reflection in the water. Clinton Road is also rumored to invite aliens and Satanic cult activities. Yikes.
Clinton Road Today: Yes, still haunted. In fact, there was a crime in 1983 right off the road involving a homicide and mafia figures. Not eerie enough for you? There's also the Clinton Furnace, an iron smelter from the 18th century that is reportedly the site of, let's just say, creepy ceremonies.
Haunted Hitchhikers
Talk about a spine-chilling road. Route 44 in Rehoboth, Massachusetts is not the place to pick up hitchhikers. For more than 30 years, local drivers claim that they have seen a red-headed, bearded man with dark eyes wearing a red flannel shirt and jeans who looks just like the victim of a fatal car crash. He is said to magically appear and disappear in the passenger seat of vehicles driving by. He usually says nothing except for breaking out into maniacal laughter. Truckers beware of this hitchhiking ghost.
Route 44 in Rehoboth Today: Still haunted by a hitchhiker? Maybe. But one thing is for sure, parts of Route 44 are quite dangerous. The junction of Routes 44 and 118 in Rehoboth is considered one of the most dangerous intersections in Southeastern Massachusetts, dubbed by MassDOT as a "high crash location." Because an estimated 20,000 vehicles pass through that intersection every day, construction was scheduled to begin in 2021 to turn that intersection into a roundabout or traffic circle, removing the traffic signals and improving pedestrian walkways. Maybe that will help keep the hitchhiker away.
Get Your Kicks on Highway 666
The name says it all, doesn't it? That's probably why Highway 666, a north-south stretch between Utah and New Mexico nicknamed the "Devil's Highway," was renamed Route 491 in 2003. You can change a name, but you can't erase a reputation. Highway 666 is accident-prone and many point to supernatural forces as the cause. Oh, and you might also want to avoid Pennsylvania's Route 666, which hasn't gone through a name change.
Highway 666, now Route 491, Today: Since the name change to Route 491 in 2003, reports of accidents have significantly dropped. But that doesn't mean that strange things don't keep happening, as constant claims of oddities continue to pour in. Perhaps it is par for the course. The stretch of road has yet another name spurred by the complaints of the original moniker. Originally more than 600 miles back when it was Highway 666, now there is a segment renamed US 191 in 1992 before another piece of it got the US Route 491 name in 2003.
The Frightening Truth of Route 66
What could possibly be scary about America's "Mother Road"? Plenty, apparently. The famed highway that runs from Chicago to the Pacific Ocean encompasses some 100 scary spots, including the Hotel Monte Vista in Flagstaff, Arizona where a ghostly bell boy knocks on guests' doors in the wee hours of the night. If you see a spooky circular light in the black sky over Quapaw, Oklahoma, that's also the curse of Route 66.
Route 66 Today – Here and There: So, does Route 66 still exist? Yes, but it's quite splintered. It is no longer one single road that travels across the United States, as it was decommissioned as an official highway in 1985. However, the original roads are mostly still in existence and can be found with some ingenuity and lots of internet help. Is it still haunted? There are still reports of disturbing finds in abandoned buildings and of ghost towns that aren't exactly dead.
Shades of a Deathly Road
Would you drive down Shades of Death Road? This quiet country lane in Warren County, New Jersey, just passed Jenny Jump State Park and Ghost Lake, is allegedly where a series of grisly murders happened in the 1920s and '30s. As if that weren't bad enough, others say the name of the road stems from malaria outbreaks as far back as the 1850s. Add sightings of ghosts, wild cats, and even violent highwaymen for further proof that Shades of Death Road seems appropriately named.
Shades of Death Road – Still Sinister Today: Shades of Death Road is still there, still mysterious and still foreboding. Folks today are still wondering about how the stretch got its name. Some think it was a warning sign from the grave to any traveler brave enough to endure this trek, particularly at night. In addition to the murder and malaria explanations, there is also a legend about early settlers killing Native Americans. Either way, Shades of Death Road remains a dark and gloomy thoroughfare in one of the more isolated parts of the state.
Late Night Diners Could Also Be Haunted
Haunted highways are full of sightings of people that appear and then inexplicably disappear. But it doesn't have to be while driving. Many truckers park in the middle of nowhere, nothing but darkness around them, to try and catch some winks in their cab's sleeper. That could be the perfect place for seeing strange things. Or at a late-night diner. Tom Kyrk, a RoadPro® driver council member, recounted his bone-rattling experiences at a 24-hour diner built over a Native American graveyard near an Allentown, Pennsylvania truck stop. His story involves murders, lights that mysteriously turn on and off, and a creepy customer who seemed to know a little too much about the diner's ghostly history.
Keep Trucking Through Haunted Highways
Certainly, all truckers have scary driving stories to tell. But we know you don't want to find yourself alone and stranded in the middle of a haunted highway. Trucking through America's highways and byways shouldn't be a frightening adventure.
---
Cruise right on through those haunted highways with a rig fueled up and running smoothly. With the Apex TCS Fuel Card, you could save big money at the diesel pump at more than 1,500 in-network locations. Also, pay $0 transaction fees on fuel purchases. Apply now and keep your 18-wheeler locked and loaded.
And while we're talking about haunted highways, have you experienced anything spooky on the road? We'd love to hear about it. Share your story on our Apex Capital Facebook page.