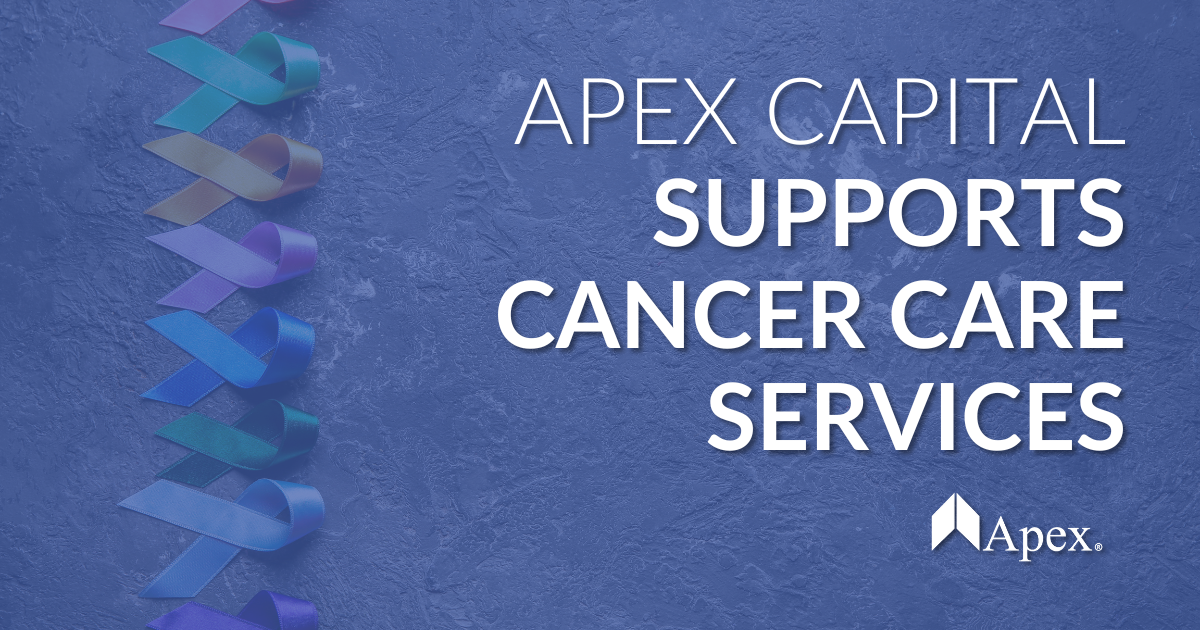 Nearly a decade ago, 2014 to be exact, Apex Capital added Fort Worth-based Cancer Care Services to the list of local charities that we support. At Apex, we have an active Social Responsibility program that fundraises and donates money as well as goods to local non-profit organizations dedicated to making our community a better place. Apex's core values perfectly align with the mission to make our community a better place.
We also believe in taking care of each other because we are a family. So, it was in 2014 when a co-worker was going through chemo, that her Apex family immediately responded by raising money to buy her a chemo jacket so that her treatments would be more comfortable. From there sprang the idea to help others going through cancer with chemo jackets. Another Apexer at the time was a Cancer Care Services board member and he suggested it would be the perfect organization to donate money or chemo jackets.
Chemo Jackets Were the Catalyst
"I contacted Cancer Care and started the process," says Vicky Sauer, an Apex Account Executive and a longtime member of the Corporate Citizenship Committee. "We started with donations to buy them chemo jackets, which they loved. Then we did a Goods Drive to buy things for the center such as supplies. Before long, we did another drive and made enough money to purchase a new couch and loveseat for the center's living area."
Nine years later, all of us at Apex remain proud of our relationship with Cancer Care Services, an organization that supports cancer patients, cares for caregivers, and empowers survivors to reduce the impact of cancer in Tarrant County. The non-profit serves all cancer types and provides emotional, financial, and practical support to those impacted by cancer at no cost.
We Make the Fundraising Fun
How does Apex raise funds for Cancer Care Services? We make sure to organize fun events that include the entire staff. Here are a few examples:
T-shirt donations: Apexers donate for the privilege of wearing a T-shirt to work once a week. At the end of the quarter, we tally up those donations and send off a check.
Virtual garage sales: We encourage Apexers to clean out their closets – gently-used clothing, cookware, shoes, even furniture – and then create an online garage sale to raise funds. It's a blast to watch Apexers outbid each other.
Bake sales: Can Apexers bake? Oh yes, they can! These bake sales are always a huge hit. We get bakers in double digits and buyers in triple digits. Because who doesn't like sweet treats?
Apex donations: As if that isn't enough, Apex donates annually to Cancer Care Services.
"What a gift Apex is to Cancer Care," says Rhea Jackson, Director of Community Engagement at Cancer Care Services. "I have seen many exciting events over the past five years on their social media, creating engagement with their employees all to benefit Cancer Care. The continued support of Apex employees and company help ensure Cancer Care can continue to provide services to cancer patients and their families at no cost to them."
Apex's Corporate Citizenship Committee, a robust part of Apex's company culture, consists of 50 members. We currently support a dozen local non-profit organizations. The Corporate Citizenship program at Apex includes at least one event a month to raise funds for these organizations.