Trucking Companies Benefit from BBB Accreditation
by

Mario Tarradell | April 30, 2019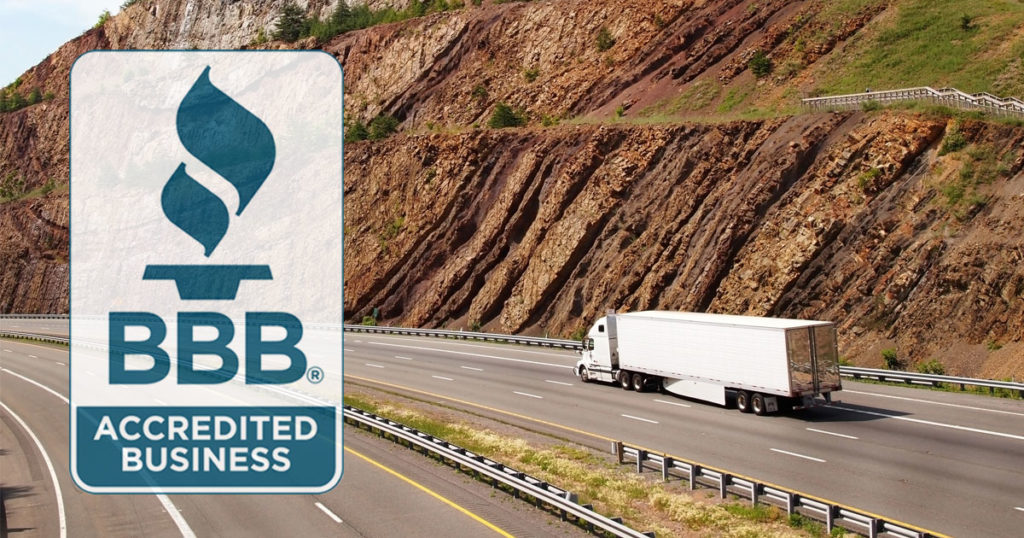 Earn Marketplace Trust: Trucking Companies Benefit from BBB Accreditation
In today's competitive business landscape, the mad dash for customer dollars can easily lead to confusion and even suspicion. Who can you trust with your money? How do you know they will do the job they promised? Is there a stamp of approval for commerce?
The Better Business Bureau (BBB), founded in 1912, remains the standard-bearer organization for advancing marketplace trust. The non-profit BBB, which consists of 106 independently incorporated local chapters in the United States and Canada, makes it its mission to accredit businesses that meet and maintain a set of eight standards.
What does BBB accreditation mean? The BBB accreditation process is essentially them putting their stamp of approval on a business based on their specific criteria. Why does it matter? Because it lets your potential customers know that your trucking company will be a trustworthy business partner. Think of it as a glowing business green light.
Trucking Companies Can Be Trusted Industry Resources
Trucking companies, like all other companies, are welcomed to apply for BBB accreditation. Amy Rasor, Fort Worth Regional Director for the Better Business Bureau, says that "accreditation sets you apart from your competitors. It shows the public that you value being a trusted resource in your industry."
So yes, getting your trucking company BBB accredited immediately shines prestige on your business. But most importantly, it tells potential customers that you walk the walk and talk the talk. Here are the BBB accreditation standards:
Build Trust –"Establish and maintain a positive track record in the marketplace."

Treat your customers right and watch them come back to you. This is your professional reputation.

Advertise Honestly –"Adhere to established standards of advertising and selling."

Do what you say you're going to do – and then some. This tells customers you're the real deal, and then they spread the word. It's a win-win.

Tell the Truth –"Honestly represent products and services, including clear and adequate disclosures of all material terms."

This is your integrity in a nutshell. Represent yourself and your business with complete transparency.

Be Transparent –"Openly identify the nature, location, and ownership of the business, and clearly disclose all policies, guarantees, and procedures that bear on a customer's decision to buy."

Make sure the who, what, where, when, and how about your business is front and center, clear as a sunny spring morning, and well documented. Doing it this way always beats the alternative.

Honor Promises –"Abide by all written agreements and verbal agreements."

If you say it, and especially if you write it, do it to the letter. Not only will you gain a customer, but you might also save yourself potential legal heartache.

Be Responsive –"Address marketplace disputes quickly, professionally, and in good faith."

Does a customer have a problem? Listen immediately, respond instantaneously, and resolve the issue promptly. Again, a win-win.

Safeguard Privacy –"Protect any data collected against mishandling and fraud, collect personal information only as needed, and respect the preferences of customers regarding the use of their information."

This is all about protecting your privacy and your customer's privacy. Communicate and document – that's the name of the game.

Embody Integrity –"Approach all business dealings, marketplace transactions and commitments with integrity."

This is your livelihood, so always be professional, honest, courteous, and serviceable. Remember that loyal repeat customers love to refer their friends.
Meet and Maintain BBB Standards
It bears repeating that these BBB standards must not only be met, but they must be maintained. "Upholding the standards is required for continued accreditation," says Amy Rasor. "We will revoke accreditation if we determine these standards are not being met."
So how does your trucking company apply for BBB accreditation?
There is a fee, of course, but Rasor says that "it is different from region to region and is usually based on the size of the business by number of employees." Your best bet is to visit the general bbb.org site, which will automatically connect you to your local BBB office.
---
Apex Capital is proudly BBB accredited, and we are ready to be your factoring company. We can help you with cash flow, fuel cards, fuel discounts, and many other services. Visit our website or call us at 855-369-2739.
Thank you for subscribing!
Mario Tarradell is a Bilingual Communications Specialist at Apex Capital. He comes to Apex after a long career writing for daily newspapers. At Apex, Mario enjoys telling stories about truckers, especially about the many aspects of the trucking industry that have the greatest impact on them personally and professionally. Mario believes that truckers are our lifelines, so he always wants to pay respect to the hard-working folks behind the wheel.