Trucking Business Tips From One Boss to Another
by

Mario Tarradell | May 9, 2022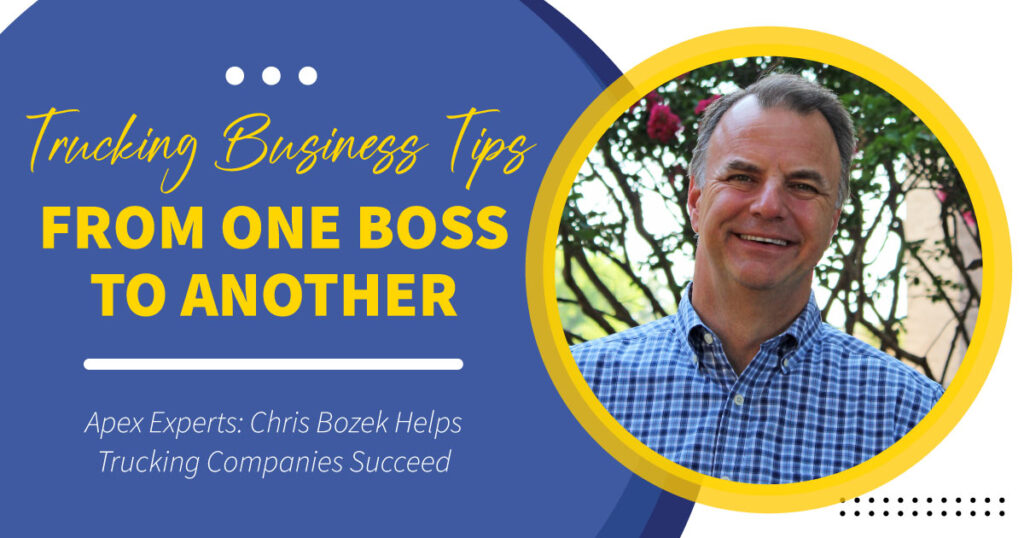 Trucking Business Tips From One Boss to Another
---
Apex Experts: Chris Bozek Helps Trucking Companies Succeed
Running a successful small-to-medium size trucking company is a whole lot more than delivering loads cross country. We've been helping independent trucking companies succeed since 1995. We're sharing some of our industry knowledge with you. Chris Bozek, president of Apex Capital, has more than 25 years of experience in the banking and financial sectors. He talks about the keys to keeping trucking companies as well as trucking company owners happy and healthy.
How do companies carefully balance profits and growth?
We're coming out of an extraordinary period where there were far more opportunities to haul good-paying freight than there were trucks or truckers. Now we're seeing that balancing out.
Freight rates are volatile now and it's important that drivers understand where to find the best loads for them based on their trucks and their opportunities. It's more important than ever to invest the time to do this, whether with preferred brokers or on load boards. Why? One reason is to cover the rising costs of running a truck, whether you are running it yourself or hiring someone. No one needs to tell truckers about what's happening with the cost of fuel, the cost of getting your truck repaired, the cost of insurance, and even the cost of buying a used unit.

It's all a balancing act. It's great to grow, but equally important to manage cash flow along the way. When rates trend downward and costs rise, it's the perfect storm – one that can end up with cash flow challenges if you're not careful. But you've got an asset – your truck or trucks sitting in your yard. You must keep them moving as efficiently as possible, making sure you have good paying loads that you're picking up and dropping off each step of the way. It's optimizing the revenue per day, per hour.
The good news is that you're not in this alone.
We have our TCS program with industry leading discounts on fuel that includes tools allowing you to find the best places to fuel with the best discounts. Apex can also help take a lot of that burden off with NextLOAD to secure good paying loads, and our flagship factoring program that allows carriers to submit invoices and get paid as soon as possible – 24/7. By using these tools, your business will succeed regardless of what the market serves up.
Should you keep an eye on the future of trucking?
The pace of technological change continues to increase and it's only going to accelerate further going forward. For those drivers or carriers out there, the more you embrace technology today the better you're positioned to embrace new solutions down the road. It's not an elective to do this. Your competitors are already using these tools to gain a competitive edge. They are finding the best paying loads where and when they need them while optimizing cash flow and finding the best prices for diesel and repairs.
Technology drives us here at Apex and TCS. The technology we're investing in, whether it's mobile, whether it's web, if it's for factoring or if it's TCS for fuel, is what I call practical innovation. You, our clients, set the stage by telling us about what works well for you and what problems you need to solve. In short, we work for you.
We focus on client-driven, practical innovation and solutions you can use today and build upon tomorrow. Whether it's being able to immediately drop a load, snap a rate confirmation on your Android or iPhone, send it to us any time, any day and get funded immediately, or using your phone to fuel up cardlessly. We have an obligation to continue bringing you innovative solutions that drive efficiency, delivering more profit. Embracing technology and tools will make your life so much easier.
---
---
Is work-life balance important?
It's liberating having your own business, but with that comes a lot of responsibility. And I don't need to tell you this but moving freight and running your own business is not a 9 to 5 job. There are going to be times when you are going to be away from your family for days on end.
I can say this as a father of three "20-somethings" that have left the nest, being a parent is the best job you'll ever have but it goes by too quickly. There is a great quote by author Gretchen Rubin regarding being a parent that I love: "The days are long, but the years are short."
Work-life balance for an owner is tough. When you are at home with your family, try to be present and enjoy those moments. It's great being your own boss, but whether it's driving many hours and doing the books at night or on the weekends, it's very demanding. Keeping that balance is going to make you and your family happier and healthier. Easier said than done, I know!
If you are a fleet owner who has drivers, you take on the added responsibility of those drivers, dispatchers, and other folks that might work for you. This goes back to leveraging technology, being as efficient as possible, working not necessarily harder but smarter. That's going to help you be on the "apex," pardon the pun, of profits and growth. That's going to make for a healthier business that will allow you to take care of those people who rely on you.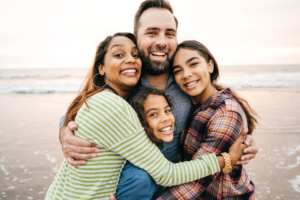 What choices make a business successful?
With all the tools and technology that are out there to drive efficiencies in your business, you have more power than ever before. But all these choices to sort through can be daunting. We personally take pride in helping you not only survive but thrive in this increasingly challenging market.
How can we help you leverage some of these tools and technology? We're here to help you make your business successful.
---
Are you ready to make sure your trucking company is successful? Apex factoring can help you with tools and services to keep your business strong – from fast cash flow to technology that makes your life easier. Visit our website or give us a call at 855-369-2739.
Thank you for subscribing!
Mario Tarradell is a Bilingual Communications Specialist at Apex Capital. He comes to Apex after a long career writing for daily newspapers. At Apex, Mario enjoys telling stories about truckers, especially about the many aspects of the trucking industry that have the greatest impact on them personally and professionally. Mario believes that truckers are our lifelines, so he always wants to pay respect to the hard-working folks behind the wheel.