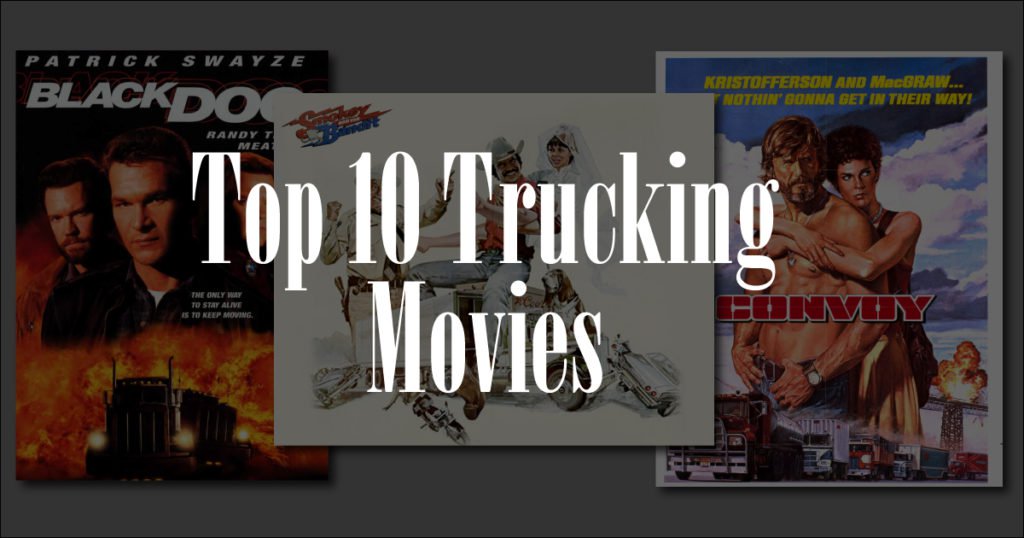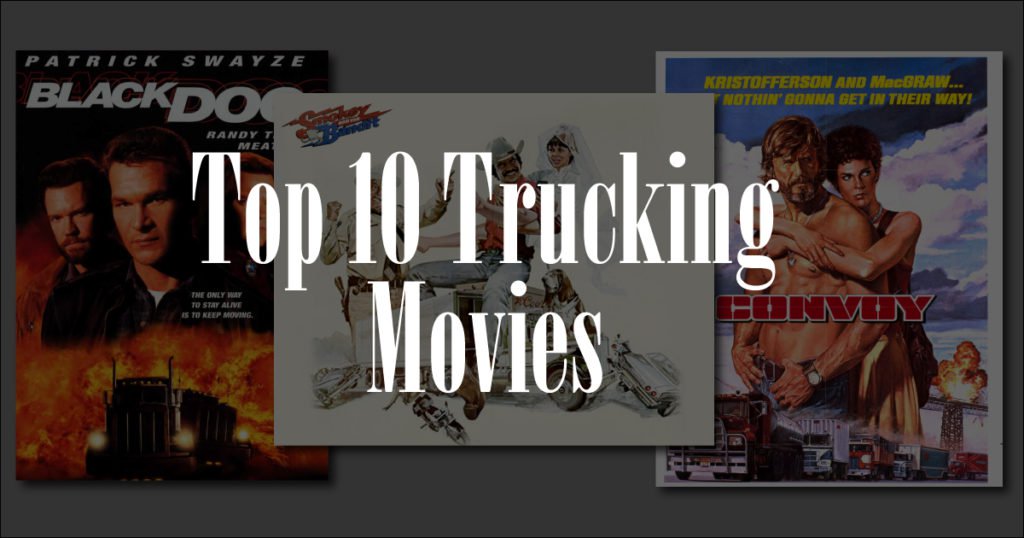 It's easy to see why trucking movies are popular.
It's fun to watch a trucker take care of business and keep our country rolling, just like our clients do every day. These movies show truck drivers saving the day, so check out our favorites and see if your favorite trucker movies made the cut.
Let us know if we left out one of your favorites! Share your favorite trucker movies with us by posting on our Facebook page, or Twitter page.
Smokey and the Bandit

(1977)

Memorable quote: "For the good 'ol American life. For the money, for the glory, and for the fun. Mostly for the money." –Bandit

This is one trucking movie we couldn't leave off our list! This movie made every kid want to be a trucker and made CB radios popular. Bo "The Bandit" Darville (Burt Reynolds) and Cledus "Snowman" Snow (Jerry Reed) are two truckers on a wild ride hauling an illegal truckload of beer from Texas to Georgia, while being chased by Sherriff Buford T. Justice AKA "Smokey", played by Jackie Gleason.

Did you know?
"Smokey and the Bandit" was the second highest grossing movie of 1977, behind "Star Wars: Episode IV- A New Hope" and inspired many other trucking films during the 1970 and 1980s.
The brand of beer Bandit and Snowman were hauling was Coors. Coors was not sold east of Oklahoma. That's why the duo was paid so much to get it across the border.
Sally Field, who played Carrie, opposite Burt Reynolds, was actually Reynold's girlfriend at the time!
Sheriff Buford T. Justice was named after a real Florida Highway Patrolman that Burt Reynolds' father knew when he was Chief of Police in Jupiter, Florida.
Three different Kenworth W-900A short-frame trucks were used in the film, one 1973 and two 1974 models.
The movie was so successful, they made two sequels!
Convoy

(1978)

Memorable quote: "A lonely breed. Hard men, proud men, not too proud to cry or shed a tear. The living embodiment of the American cowboy tradition." –Governor Jerry Haskins

We can't help but sing this movie's theme song! Sheriff Lyle "Cottonmouth" Wallace (Ernest Borgnine) chases Martin "Rubber Duck" Penwald (Kris Kristofferson) and his fellow truckers as they form a mile-long convoy of big rigs to show you don't mess with truckers!

Did you know?
"Convoy" was inspired by the country song with the same name, but the song didn't follow the movie's story, so singer C.W. McCall recorded a new version of the song.
"Smokey and the Bandit" director, Hal Needham, and star, Burt Reynolds, were offered a chance to direct and star, but they decided to make "Smokey and The Bandit" instead.
Gene Hackman turned down the chance to direct the movie.
Rubber Duck's hood ornament was so popular, they still sell replicas online today!
Cars

(2006)

Memorable quote: "My name is Mater. Like tuh-mater, but without the 'tuh'." –Mater

Little future truckers love to quote Mater, the tow truck, from this animated Disney/Pixar® movie, voiced by Larry the Cable Guy. We do too! Mater says several of the comedian's well-known catchphrases, including "get 'er done!"

Did you know?
Mater was modeled after a 1951 International Harvester L-170 with elements of a mid-1957 Chevrolet 3800.
There are a lot of celebrity cameos, including Michael Keaton, as racecar Chuck Hicks, Jeremy Piven from the TV show "Entourage," as Lightning McQueen's agent, and racecar legend Richard Petty as racecar, The King.
The film was such a success they released Cars 2 in June 2011. In the sequel, Lightning McQueen and Mater visit Japan and Europe to compete in the World Grand Prix.
Breaker! Breaker!

(1977)

Tagline: Don't Muck Around With An 18 Wheel Trucker.

Chuck Norris plays a truck driver who delivers some trademark round-house kicks to the bad guys in this movie full of car chases and sweet kung fu moves!

Did you know?
This old trucking movie's name comes from trucker CB slang. Truckers use this phrase when they interrupt a conversation over the CB radio.
Chuck Norris' kung fu moves were inspired by Bruce Lee.
The Texas City police cars are 1968 and 1970 Dodge Coronets.
Over the Top

(1987)

Memorable quote: "Tell you the truth, the truck is, you know, the most important thing for me…it doesn't matter if I become the champion or anything. That's, that's not the most important… I… I need this truck." –Lincoln Hawk

Sylvester Stallone plays a trucker named Lincoln Hawk, who enters a World Arm Wrestling Championship in Las Vegas, hoping to win a new semi-truck and $100,000 to start his own trucking company.

Did you know?
Stallone did his own stunts in the final scene and got a bloody nose when Rick Zumwalt punched him. He also strained his forearm during the final arm wrestling scene.
Famous arm wrestling champions John Brzenk, Cleve Dean, Scott Norton, and Allen Fisher all make cameos!
White Line Fever

(1975)

Memorable quote: "Don't try your flyboy heroics around here." –Carrol Jo Hummer

Air Force veteran Carrol Jo Hummer decides to go into the trucking business to provide a good life for his family, but trouble brews when he finds out that the long-haul trucking industry has been taken over by organized crime.

Did you know?
The truck he drives is a 1974 Ford WT9000 cab over rig with a Cummins turbo diesel engine nicknamed "Blue Mule!"
The movie was filmed entirely in Tucson, Arizona.
"White line fever" can mean being addicted to trucking!
Big Trouble in Little China

(1986)

Memorable quote: "You ready, Jack?" – Wang Chi

"I was born ready." -Jack Burton

This truck movie is a cult classic because it has 80s style action and 70s style kung fu! Kurt Russell plays truck driver Jack Burton, who helps rescue his friend Wang Chi's fiancée from bandits in San Francisco's Chinatown.

Did you know?
Kurt Russell had the flu while filming this movie, so his sweat is real because he had a fever!
Russell based his character's accent on famous cowboy, John Wayne.
Jackie Chan was almost cast as Russell's sidekick.
The truck Jack Burton drives is a Freightliner FLC 120, nicknamed the "The Pork Chop Express."
Black Dog

(1998)

Memorable quote: "There ain't nothing like a Caterpillar engine." – Jack Crews

Jack Crews is a trucker who is tricked into hauling a load of illegal firearms. If you're wondering where the film got its title, black dog is a term truckers use for visions they get when they're tired.

Did you know?
Patrick Swayze actually drove an 18-wheeler and did his own stunts.
Musicians Randy Travis and Meat Loaf have big roles in the film.
Travis even sang on the film's soundtrack, which reached number 30 on the list of Top Country Albums!
Flatbed Annie and Sweetiepie: Lady Truckers

(1979)

Tagline: "When 2 women, 18 wheels and 16 gears are rollin'…move over."

Female truck drivers are queens of the road in this TV movie about Flatbed Annie and Sweetiepie who become truck drivers after Sweetiepie's husband gets injured.

Did you know?
Billy Carter, former President Jimmy Carter's brother, plays Deputy Miller.
The director, Robert Greenwald, also directed The Burning Bed and Xanadu.
The classic 1969 Ford Mustang coupe and 1969 Mach 1 are driven in the film.
High Ballin'

(1978)

Tagline: "Truckin' is one thing, High-Ballin' is another, and the way they do it is something else!"

Trucking was so popular in the 70s and 80s, even Canada put out a trucking movie! Described as a "modern-day western, with trucks instead of horses," Jerry Reed and Peter Fonda are two truckers who fight off thugs trying to put independent haulers out of business.

Did you know?
Reed was famous for playing Snowman in "Smokey and the Bandit," and he plays a truck driver again in this film.
Reed even wrote and performed the movie's theme song, "High Ballin'."
The movie was released in New Zealand as "Death Toll."
 Did we leave out your favorite old trucking movie? Do you have one to add to our list? Share your thoughts with us by posting on our Facebook page, or Twitter page.