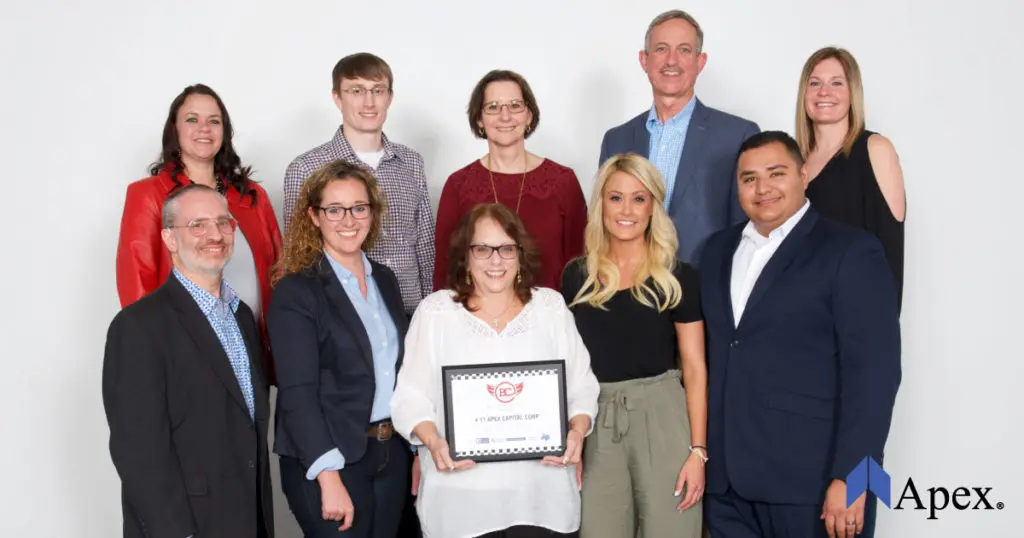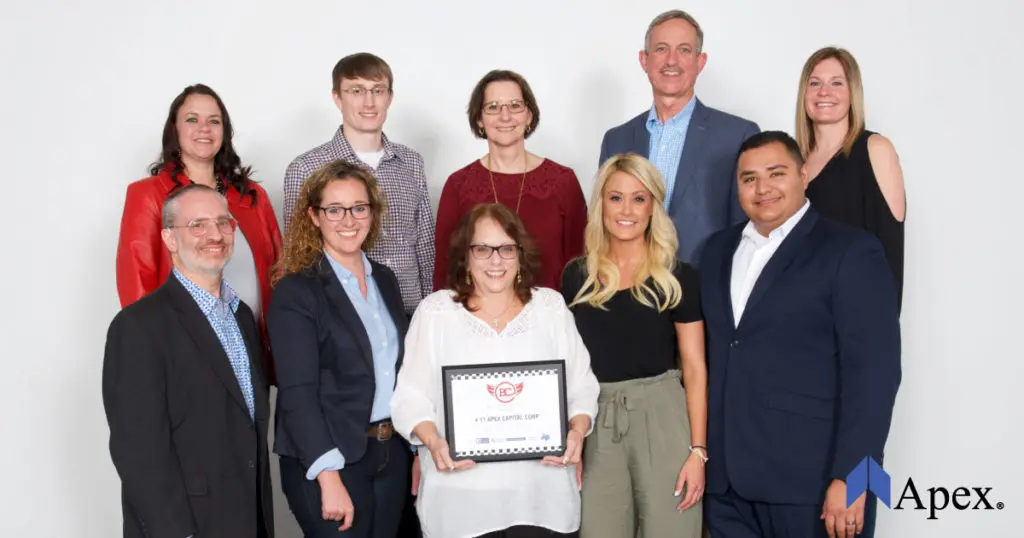 Numbers always tell a story. Think about the lifetime behind those digits that define your age. Those aren't just mere numerals. They say a lot about your experiences. Be proud of the numbers.
At Apex, we are particularly proud of two numbers – 11 and 85. Those aren't random figures. They tell a story.
Best Companies to Work for in Texas
Let's start with No. 11. Apex Capital proudly ranks No. 11 in the Medium Company category among the 2018 Best Companies to Work for in Texas. This is also the 11th year that Apex has been honored as one of the Best Companies to Work for in Texas. As you can imagine, we are incredibly happy with that magical No. 11. We were presented with the award this year at the Best Companies Group annual reception at the Circuit of the Americas, Del Valle in Austin.
But here's the greatest part of that honor: The Best Companies nominating process includes an employee survey that counts for 75% of the combined score to determine the final rankings. That survey gives us valuable information on what our Apexers think, feel, and need working at Apex. Our most important core value is to always do the right thing by our employees and our clients. Valuable feedback from our own allows us to continuously improve our work environment.
At Apex, we pride ourselves in a culture of connectedness. We are one big family. We embrace employee wellness, offer tuition reimbursement for professional advancement, cater month-end lunches, and reward our employees with quarterly profit sharing bonuses. We play pool, ping pong, publicly recognize each other, and celebrate company milestones.
Apex Capital Net Promoter Score
Speaking of milestones, this is where No. 85 comes in. Apex Capital's NPS score is 85. What does that mean? That means we offer "world class" customer service. The Net Promoter Score (NPS) is a customer loyalty metric created in 2003 used largely to measure customer satisfaction, customer experience, and loyalty.
That 85 NPS Score comes directly from our 2017 Client Satisfaction Survey results. We sent all our clients the survey, and their glowing responses tells us that we always treat them with attention and respect, plus we are doing the right thing to help their businesses grow.
To give you a little perspective on NPS Scores, they range from -100 to +100. Anything above 0 is considered good. Anything above 50 is considered excellent. And, anything over 70 is considered "world class." Our NPS score of 85 means we are "world class." A huge thank you to our wonderful clients for the amazing vote of confidence in our commitment to always do the right thing.
So, there you have it. Two numbers, 11 and 85, that tell the Apex story. We are very proud of those numbers.
---
Do you want to work at a Fort Worth company with a great culture that values you and allows you to grow and develop personally and professionally? Check out our job openings! Are you ready to factor with a world-class company? Visit our website or simply give us a call at 855-369-2739.