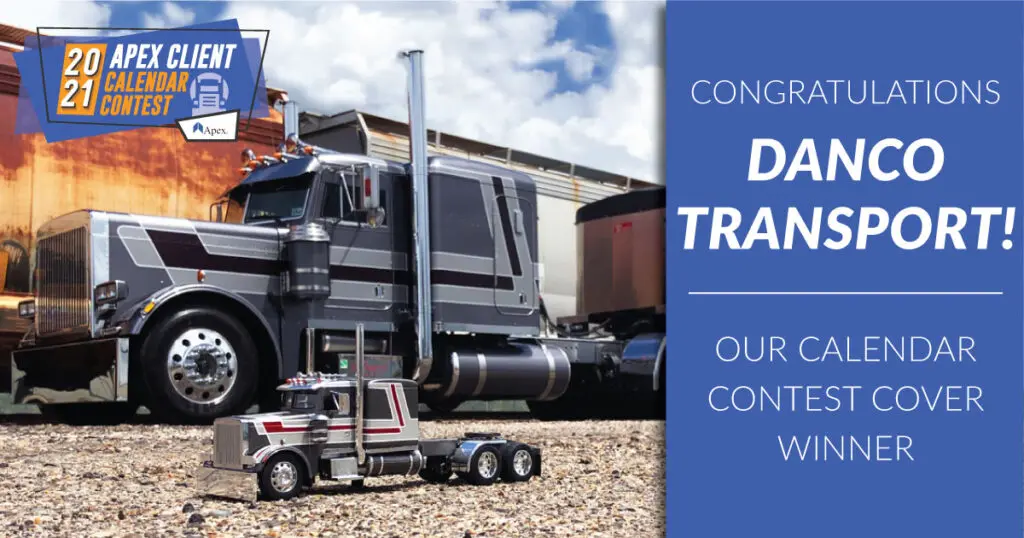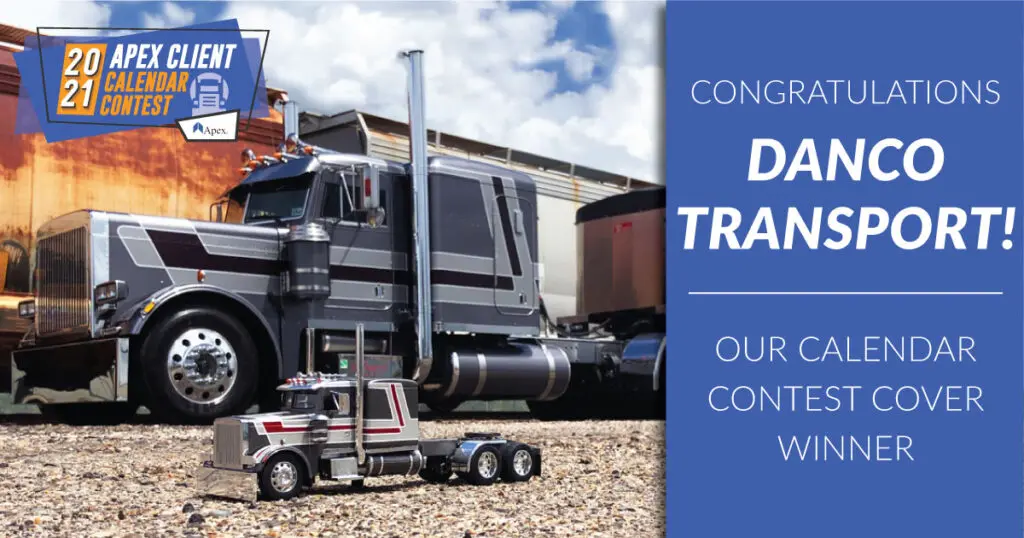 Big Truck and Little Truck: Danco Transport Wins the 2021 Apex Capital Client Calendar Contest
---
Daniel Cortez, owner of Louisiana-based Danco Transport, thought the visual appeal of a big truck and a little truck would make for a great truck photo to enter in the 2021 Apex Capital Client Calendar contest.
He was right. Danco Transport won the coveted cover spot of the 2021 Apex Capital Client Calendar. Cortez's winning photo is an undeniable example of creativity and playfulness. In the foreground of the pic is a toy truck that looks like a miniature version of the big truck behind it. The picture is framed by a rusty railcar.
"I will always be a kid at heart," says Cortez, "so when I found a guy who could make a model of the actual truck, I had to have it. I told my wife it didn't matter how much the model cost; it was a must have."
As for the photo's background location, Cortez didn't have to go far. "The photo is taken in Raceland, Louisiana next to the Raceland Sugar Mill. This is where I park the truck when I'm home and thought the railcars would make a nice background for this effect."
---
And the Rest of the Winners Are…
---
To fill up the remaining spots on the 13-month calendar, we will be randomly featuring the rest of the winners of this year's contest:
Eagle Transport
Corral Trucking
CRT Heavy Haul
Ebenezer Transportation
Fujimo Transport
Midnight Express
G5 Logistics
PDP Trucking
PB Express LLC
Mr. A Trans
Maddock Trucking
VIP Transporter
We also have two honorable mentions – Gary Freight Co LLC and Pegasus Logistics. All our Apex clients will receive a copy of the 2021 calendar in December.
Apex Shows Appreciation for Our Clients
Our annual Apex Client Calendar is one of the many ways we show our appreciation for our clients. We like to frame 13 chrome and steel beauties and showcase them as shining examples of pride and joy. This year's contest to select the baker's dozen trucks and pick a cover winner began July 16 with photo submissions through Aug. 7. From Aug. 10-14, our fellow Apexers voted to select the Top 13, and from Aug. 20-31 public votes determined the cover-winning truck.
Over in Raceland, Louisiana, Cortez is feeling gratitude for the opportunity to share his cover-winning 2004 Peterbilt 379 with fellow Apex clients. "Everyone takes a lot of pride in their trucks," he says, "and it's an honor to be chosen for the calendar much less to be chosen for the cover. It's very exciting and doesn't seem real just yet."
---
Are you ready for picture-perfect trucking company success? Apex factoring can help you get there. We offer our clients free credit checks, our blynk™ digital payment platform, fuel card savings, a mobile app, and so much more. Visit our website or give us a call at 855-369-2739.
---