2019 Guide to MATS
by

Hannah Marcom | March 1, 2019
2019 Guide to MATS
The Mid-America Trucking Show (MATS) is the largest annual heavy-duty trucking event in the world. It's the mecca of all things trucking. This year MATS is celebrating 48 years at the Kentucky Expo Center March 28th through March 30th. When they say it's the largest trucking event in the world, they mean it. You can expect to see over a thousand exhibitors representing 47 states and 10 countries and over 70,000 attendees from 50 states and 61 countries.
The best thing about MATS is you get a mixture of business, fun, and entertainment in an action-packed three days. During the show you can discover new products and services, learn valuable information from seminars, get tons of cool freebies, look at beautiful trucks, and attend a rocking concert all in one place!
What's the one piece of advice we could give you about MATS? That it's nearly impossible to see and do everything. So, we're picking out the best parts of MATS that you won't want to skip.
Tips for Taking Care of Business at MATS
With over 1,000 exhibitors at MATS, it's the best place to learn new tricks of the trade and network with people in the trucking industry. Some exhibitors have special promotions at MATS, so it can be a great place to save money and get exclusive deals, too. Most importantly it's your chance to talk to thousands of trucking experts and if you want to get the most out of MATS, we suggest you come prepared!
What Do You Need at MATS?
Before you walk through the doors of the Kentucky Expo Center think about why you're going. Are you thinking about starting your own trucking company or growing your fleet? Are you getting the best price and customer service from your current insurance or ELD providers? Think about which booths you want to stop by that can help answer those questions. The booth staff are there to talk to you! If they don't know the answers, they might have relationships with other exhibitors and be able to point you in the right direction.
What Can You Learn at MATS?
Check out the list of hour-long seminars available all three days at MATS to see if there is one that you'd be interested in. The seminars are free and don't require advanced registration, but it's a good idea to put them on your calendar so that you don't miss them! With just a little bit a research and planning you can get the most of out your time at MATS.
We're hosting the How to Start a Trucking Company seminar on Saturday March 30th 11:15 AM – 12:15 PM. Come see us!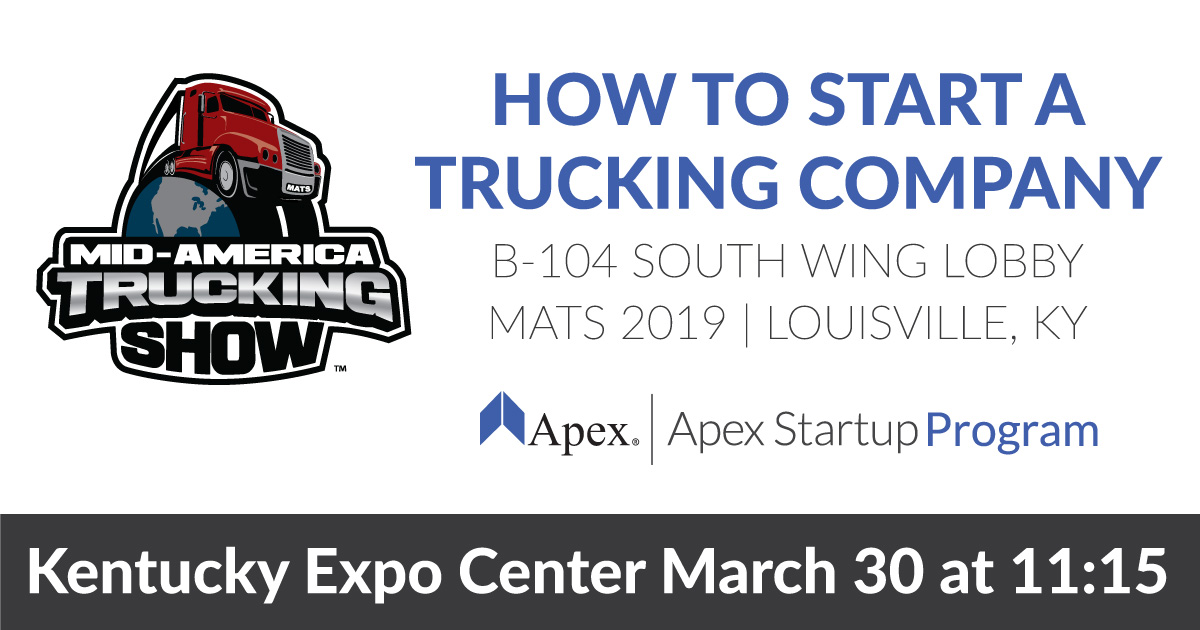 ---
Tips for Freebies and Fun at MATS
Everyone loves free stuff, right? Good thing you can find a ton of freebies at MATS. Most booths will have free items and swag for you to take home, like t-shirts and pens. But the biggest benefit for truckers is the MATS Truck Parking Community. You can park for free, get a free shower, and ride the shuttle to and from MATS for free! Our partner, TA Truck Service®, will be out there doing repairs and service in the Papa John's Cardinal Stadium parking lot. If your truck needs service, you might as well have it done while you're walking around the show!
What Other Events Can You Attend at MATS?
If you're a member of a trucking association, check to see if they have any member events going on. If not, there's one fun and free event held by the Women in Trucking Association (WIT). The annual Salute to Women Behind the Wheel event at MATS is open to all trucking industry professionals. During the event, you can find out information about what WIT is working on, be entertained by country singer Jayne Denham, possibly win some raffle items, and enjoy refreshments. You'll even be given a goodie bag to take home with you.
Lastly, if you're a gear head or country music fan you won't want to miss out on the PKY Truck Beauty Championship or the free MATS Concert.
---
As you can see, you can work and play at the Mid-America Trucking Show. Be sure to come see us at booth 61108. If you won't be at MATS this year but still want to know how Apex helps trucking companies with their cash flow and collections, call us 855-369-2739 or get started today.
Thank you for subscribing!
Hannah Marcom is a Communication and Social Media Specialist at Apex Capital. She has worked in multiple departments here at Apex gaining valuable experience with our clients and trucking industry professionals. Currently, Hannah serves as our social media maven and enjoys being able to connect and engage with anyone online. In her free time, you'll catch Hannah spending time outdoors with her dogs and honing her archery skills.