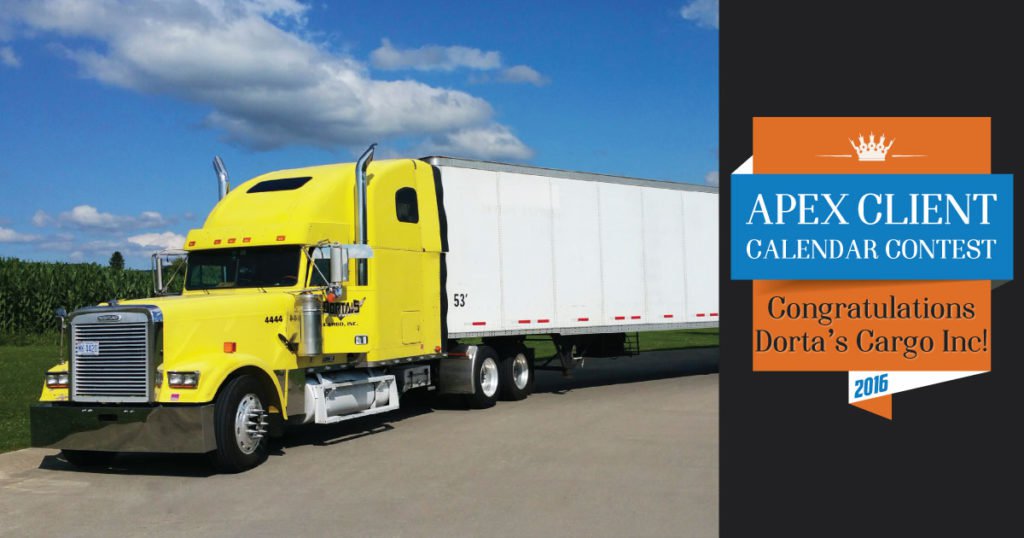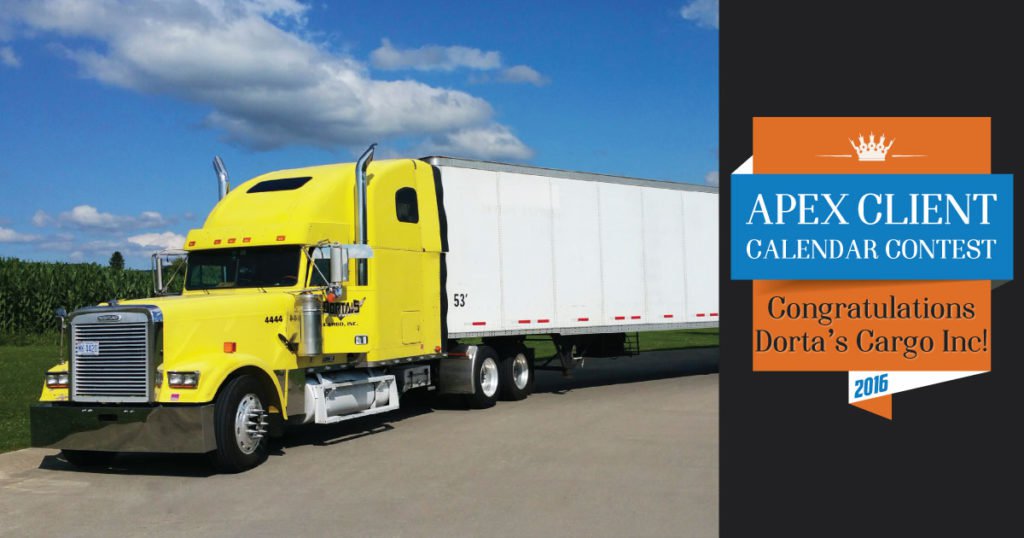 Congratulations, Dorta's Cargo Inc!
Apex is different from other factoring companies because we consider ourselves a partner to our clients. We're invested in their success, and believe that without them we wouldn't exist.
To celebrate our clients' hard work and to show our appreciation, each year we host a contest to select clients' truck photos to feature in the annual Apex Client Calendar. We ask our clients to enter their favorite company truck photos, we post the photos to our website, and we let the public vote on their favorite pictures. Votes are tallied using an online voting system and the 13 photos with the most votes earn spots in our calendar. The picture with the most votes wins the coveted calendar cover.
This year we received 87 entries into the calendar contest and over 17,000 votes were cast. Dorta's Cargo Inc's 2000 Freightliner Classic received the highest number of votes! Congratulations, your bright yellow beauty will be featured on the cover of the 2016 Apex Client Calendar!
The following 12 winners will also be featured:
Elite Express
Eric M Thompson Trucking LLC
VIP Transporter LLC
Mike Galbusieri Trucking Inc.
C & J Trucking of Iowa
WS Express LLC
Colt Transportation
JRCB Trucking Inc.
Northwest Transportation
The Elite Fleet
Potter Trucking
Moonlight Express
Honorable Mentions:
Rocketline Carrier Services
ATL Inc.
Thank you to all of our clients who entered their truck pictures and to everyone who voted. We can't wait to mail the calendars to clients in December. For sneak peeks of our 2016 calendar, check our Facebook page for updates.
Call or email us today to learn more about how our factoring programs can help you keep more of your money in your trucking company where it belongs. Call 1-855-369-APEX or get started here.