How to Make Money in the Auto Hauling World
by

Mario Tarradell | September 30, 2019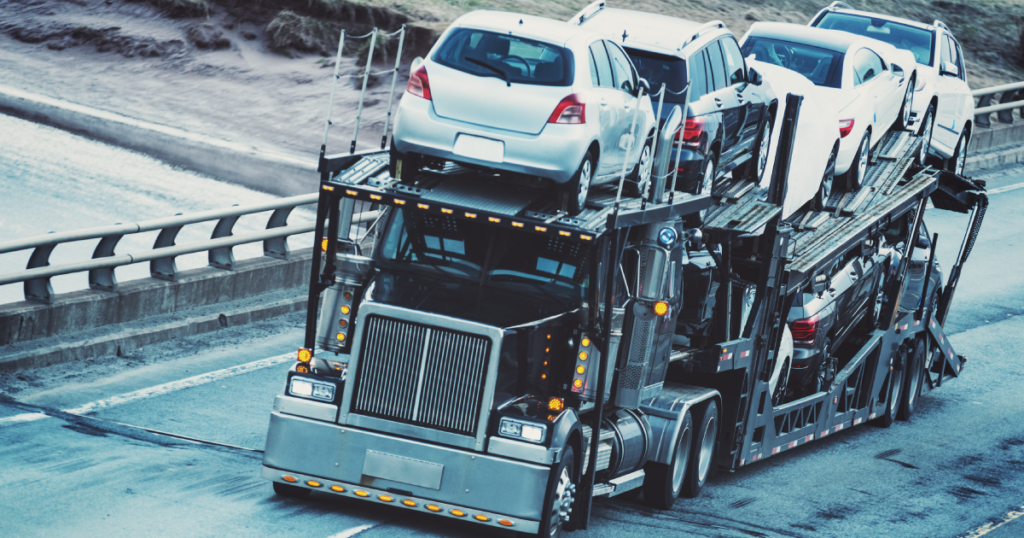 How to Make Money Hauling Cars
---
You've got your auto hauling trucking company set up. You have your "for-hire" authority and you elected auto hauler as your commodity type. You've got your car carrier trailer ready to roll. Your insurance policy is signed, sealed, and delivered. You even have a business plan on paper.
Now you are ready to make some money. That means you have a whole other set of questions you need answered. While auto hauling can be quite lucrative, at the same time it is also much riskier because of the higher value of your cargo. So, don't load up on shiny cars just yet. We know the questions floating around in your head. We're ready to answer them.
How Do You Make Money Hauling Cars?
There's no magic book of instructions. The way you make money hauling cars is essentially the same way you make money hauling just about anything. Find a load board that specializes in car hauling and get yourself a load. Use that first auto hauling load as a springboard to make connections for car hauling contracts. With every satisfied customer, you could get yourself more satisfied customers, including repeat customers. Securing dedicated lanes is a car hauling trucking company's dream come true.
How Much Do Car Haulers Make?
There are never cut and dry numbers when it comes to how much you get paid for any load, including hauling cars. But we can offer you ballpark figures. The typical rate range of hauling cars for money can be anywhere from $300 to $700 per car. Obviously, the value of the car you are hauling plays into how much you will get for hauling it. The same thing goes for whether you are hauling cars intrastate or interstate. The farther you haul the vehicles, the more you will get paid.
Does Hauling More Cars at Once Affect Rates?
Car hauling, for the most part, remains a per-car business. There usually is no change in the per-car fee if you hauled, say, eight, nine, or 10 autos in one trailer. However, you could always negotiate a flat rate amount for the load with the shipper or broker. By and large, though, the car hauling rates out there are round numbers that factor in the car and the distance hauled. Also, the more cars you haul the greater the chance you will have to wait get paid. If you are waiting to get paid, then freight factoring could help. Apex Factoring offers a fast, flexible and reliable cash flow solution so you can keep hauling more cars.
Does Hauling More Cars Mean More Insurance Coverage?
The more cars you haul, the greater your profit. Simple, right? But by the same token, the greater your risks. You need to be sure that your insurance policy will cover your cargo. As an auto hauler, you typically should have $2 million in liability and at least $500,000 in cargo insurance. Check with your insurance company and carefully read your policy, then be prepared to increase your coverage.
How to Be Successful Hauling Cars
Like with any other trucking company, a car hauling trucking company needs to bring in revenue that exceeds expenses to turn a profit. How do you do that? By negotiating great per-car rates and by hauling more cars at once, yes. But also, by keeping your expenses in check. You have options to protect your bottom line. Take advantage of fuel discounts provided by a great fuel card. The Apex Fuel Card offers savings of up to 33* cents per gallon at more than 1,000 in-network truck stop locations. Of course, establish those relationships with brokers and shippers, so they become your dedicated lanes. Finally, work with a reputable freight factoring company, such as Apex Capital, for valuable help with immediate cash flow. *Average savings of 33/gallon is based on actual In-Network TCS client transactions for all of 2019.
---
Are you ready to make your car hauling trucking company a success? Let Apex Factoring help you with cash flow and let the Apex Fuel Card keep your fuel expenses low with diesel discounts. Visit our website or simply give us a call at 855-613-2739.
Thank you for subscribing!
Mario Tarradell is a Bilingual Communications Specialist at Apex Capital. He comes to Apex after a long career writing for daily newspapers. At Apex, Mario enjoys telling stories about truckers, especially about the many aspects of the trucking industry that have the greatest impact on them personally and professionally. Mario believes that truckers are our lifelines, so he always wants to pay respect to the hard-working folks behind the wheel.